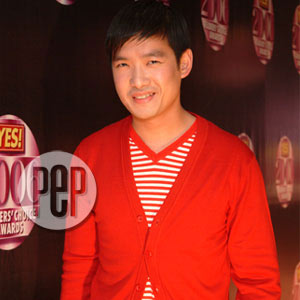 ---
Tim Yap is an editor, a model, an eventologist, and a TV personality. Of these engagements, his largest and most regular exposure has come from being a columnist in "Super," a weekly section in the broadsheet Philippine Daily Inquirer.
Now, he has been temporarily suspended from "Super."
In the third issue of Connect, a corporate publication of Smart Communications, Tim Yap described himself thus: "From being a purveyor of fun times as an eventologist, to promoting youth empowerment in my print medium as editor, director, and columnist, I'm crossing over to TV."
In the same magazine, Tim revealed his plans to go to Europe for the Cannes Film Festival, to Monte Carlo, to Saint Tropez, and to Paris. After his European trip, he said, he will "rush back because it's the anniversary of my Super section."
Fast forward to May 23, at 9:11 a.m. PEP (Philippine Entertainment Portal) receives this text message. "D universe's hand @ justice: Tim Yap got booted out of Inquirer, 4 self agrandising himself w his PDI articles! Karma 4 his part n d brutal attack of my son, n as part owner of Embassy! Removing hs media power is good move! Thx God. Mara"
Mara, the alleged text sender, is apparently Mara Pardo de Tavera. According to newspaper reports, her son, Carlo Brown, had gotten involved in a brawl with Imee Marcos's son, Borgy Manotoc, at the Embassy Club—the club Tim Yap co-owns—located at The Fort, in Taguig City, on April 9, 2007.
"BRUTAL ATTACK." PEP posted this article entitled "Borgy Manotoc in a bar fight, again" on April 10.
ADVERTISEMENT - CONTINUE READING BELOW
"Carlo, whose head was covered with bandages, appeared on 24 Oras. 'I confronted Borgy and we had an exchange of words. I'm not sure exactly what, and someone hit me over the head, and I tried to fight back. I could hear them attacking my friend. He and several other guys were there and he [Borgy] punched me in the face once,' he narrated.
"His mom Mara was also interviewed: 'I stand here as a mother who is angry, but still wants peace, but wants another son to learn a lesson.' She also mentioned the family's plan to file a suit against the son of Ilocos Norte representative Imee Marcos, and demanded a public apology from Borgy.
"The alleged root of the rift: Ornusa Cadness, Borgy's girlfriend.
"Borgy was said to have been displeased when Carlo approached the former's girlfriend and asked, 'What time is it?'
"On April 11, Borgy arrived at the Taguig Police Station without escort. He apologized to the people who got hurt, and refuted the statements of Carlo.
"'He was mocking me, and he began pushing and shoving, and I had to defend myself. I said in my statement that he picked up a chair and swung it to the nearby person,'" he said.
"And how did Tim Yap figure in the controversy?
"First, he co-owns the Embassy Club. Second, his 'employees' appeared on TV clearing Borgy's name. In a phone interview with 24 Oras, The witnesses—the Club's bouncer and lady guard, plus a Bonifacio security guard—stated in their sworn statement that the model-host was there trying to 'stop the fight with the bouncers.'"
ADVERTISEMENT - CONTINUE READING BELOW
BOOTED OUT? Now comes news that Tim is on indefinite suspension from the Inquirer's "Super," a section that attempts to capture the lifestyle of the young and carefree. The suspension has been confirmed by a Philippine Daily Inquirer (PDI) insider who spoke to PEP as an anonymous source.
"Tim is on indefinite suspension. This was due to indiscretions, which include self-promotion of his business interests in Super!, which he edits."
The "self-promotion" is supposed to refer to the "parties and events" that Tim features in his section, which are reportedly "parties and events" that he has been hired to organize and/or promote.
The source also says that the recent incident where Tim "defended Borgy in the brawl with the Pardo de Tavera scion" has something to do with his suspension. Tim's defense of Borgy is supposed to have included writing "negative" things about Carlo de Tavera Brown in "Super."
"The indefinite suspension may become definite," the source says, "but the PDI is still studying the matter."
Meantime, other sources allege that Tim was very recently seen with persons identified with a rival broadsheet.
TIM YAP'S SIDE. PEP sent a text message to Tim Yap, who is currently in Europe for the Cannes Festival: "There's a text circulating that u r no longer part of PDI:-( is this true? Why?"

He replied: "Not true :-( I am taking a vacation to france for a month, so I filed a leave. :-) that's all there is to it.:) Inquirer Super is turning four years, and I'm turning TEN in Inquirer next year.:-) It's just some black propaganda.:-)"
ADVERTISEMENT - CONTINUE READING BELOW
In a phone conversation with Tim, he admitted sending Mara Pardo de Tavera a text message, part of which went: "May God bless you Mara. I know you re hurt and you want to take it out on me. I fully understand and accept your ill thoughts about me. The universe is fair, everyone will get his rightful karma. :-)"

He continued: "May God and the universe conspire with you."
When asked about his alleged participation in "twisting the truth" about the Borgy-Carlo brawl, Tim replied: "Those are my employees. 'Pag ganyang away, 'di ko na pinapakialaman." On certain days, Borgy Manotoc does some work for the entertainment component of the Embassy.
OTHER CONTROVERSIES. In a previous occasion, the blogging community reacted to Tim Yap's statements in an article published in a major broadsheet last March 13.
The community called Tim all of these names—"sociopath," "Schmuck," "moronic," plus a couple more. Add to that, a poem entitled "Bring Me the Head of Tim Yap Superstar Columnist!" was written by a certain "Amado Bajarias."
What triggered these reactions was Tim's statement that went: "There is this mind-set, which I think is so passé, that says: 'The country is in shambles and the country is having a hard time and you are out there partying.' But this generation is guiltless when it comes to that."
Recalling that interview, Tim Yap explains, "I was in Palawan when I got interviewed by Reuters. I was taken out of context. I was actually pushing for a pro-wealth mindset. The people who spend, party, and drink at night, let them eat their cake. Pero tama na yung mga telenobela...tama na yung tungkol sa kahirapan. Wealth is not just of the poor. Wealth is in the mind, the heart, and not of the pocket."
ADVERTISEMENT - CONTINUE READING BELOW
When Tim is asked to describe himself, he says: "I'm somebody that people love and love to hate. It's both a blessing and a curse."