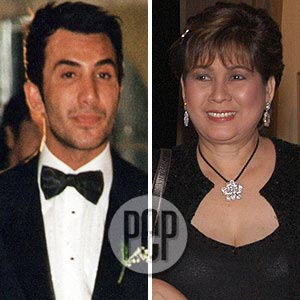 ---
Ruffa Gutierrez's expected meeting with her Turkish husband, Yilmaz Bektas, in Las Vegas did not push through, according to the May 26 report of Startalk's Butch Francisco.
The report also said that since the couple officially announced their split last May 8, Yilmaz has been calling Ruffa on the phone many times. The report further said that his efforts have been futile. According to the report, the TV host-actress would hand the telephone to her mother, Annabelle Rama.
Annabelle, who has recently been very vocal in admitting her disapproval of Yilmaz, was reported to have yelled at her son-in-law at one point. Her exact words were said to be: "Leave my daughter alone! Give her freedom!"
While the Startalk report saying that Annabelle Rama has already told Yilmaz Bektas exactly what she thinks may be accurate, PEP has conflicting information about the phone calls from Yilmaz to Ruffa. Fact vis, Yilmaz has succeeded in talking to Ruffa several times. On many occasions, several times in a day.
YES! magazine editors Jo-Ann Maglipon and Anna Pingol were present on one occasion—in particular, on May 9, at the home of Tonyboy Cojuangco and Gretchen Barretto in Dasmariñas Village—when Yilmaz phoned Ruffa at least three times from 4p.m. to 11 p.m. And Ruffa told them that she and Yilmaz never lost contact with each other. In another interview, Ruffa would also say that she has given their children, Lorin and Venice, a cellphone so that they could talk to their father directly.
ADVERTISEMENT - CONTINUE READING BELOW
Ruffa's Las Vegas trip on May 21 was seen by observers as a last ditch effort to salvage her faltering marriage. Others say that it was a necessary move to fix legal impediments to an annulment (recognized by Philippine laws) or a divorce (recognized by Turkish laws).
Meanwhile, the Ruffa-Yilmaz marital squabble has found its way into the Turkish press. Ruffa, in an interview with Startalk before she left the country, said that she was planning to submit a statement to air her side and also to protect the name and reputation of the father of her daughters.
"Yilmaz's family kasi is very well known and influential in their country so I don't want his name to be dragged into too much controversy," stated Ruffa in the same interview.
Here in the Philippines, Yilmaz's latest statement, which was read yesterday, asked the local press to refrain from speculating on their marriage and to respect his dignity.
The wealthy Turkish businessman mentioned that he is hurt by all the alleged dirt thrown at him, and was even quoted as saying that his only fault was, "trusting and believing in people too much."
Yilmaz also expressed love and respect for his feisty mother-in-law. "I loved her the first time I met her," Yilmaz said in his email.