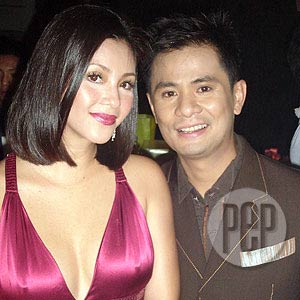 ---
With everything finally said and announced, comedian and singer-songwriter Ogie Alcasid instinctively does the next logical step to show his love—through actions.
Last Saturday night, May 26, at the Music Museum, Ogie kissed a blushing Regine Velasquez—not once, but twice—for all the audience to see while doing a reggae version of one of his classic hits.
Asia's Songbird watched the show entitled Ogie in the Sitti and was obviously nervous-yet-kinikilig when her boyfriend came down from the stage and walked towards her. The said kiss was caught by Showbiz Central on video when it covered the event, wherein bossa nova singer Sitti Navarro shared the stage with Ogie.
It was the first official public kiss of the controversial couple after Ogie's brave revelation in the June 2007 issue of YES! Magazine confirming his long-rumored affair with Regine.
During the press conference of Pinoy Pop Superstar last May 21, a teary-eyed Regine declared feeling both happy and scared now that her relationship with Ogie is out in the open.
"I'm very, very happy but I'm also scared that people might once again judge me," she softly explains while crying.
Many, of course, believe that Regine's fear of being judged stems from her similar experience a couple of years back when she had a relationship with fellow singer, Ariel Rivera. Back then, Ariel was still involved with his girlfriend (and now wife), Gelli de Belen.