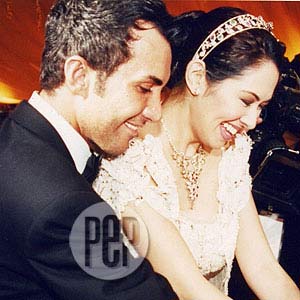 ---
Is Yilmaz Bektas softening up?
In his recent interview with ABS-CBN's Europe Bureau Chief Danny Buenafe, Yilmaz admitted that losing his wife, Ruffa Gutierrez, was the most painful experience of his life.
This time, the Turkish millionaire's tone was calm and oftentimes repentant, compared to his cold demeanor last week when he talked about Ruffa and their much publicized separation.
Yilmaz acknowledged that he "grew up" with Ruffa and that "she's not a girlfriend... she's my wife and the mother of my children."
Letting his guard down, he confessed some of his shortcomings as a husband, particularly his failure to give enough quality time to Ruffa and their two daughters, Lorin and Venice, which greatly affected the marriage.
But Yilmaz again dwelled on his upset over his wife's confusing actions—mirroring his earlier accusation that Ruffa displays two contrasting personalities.
It will be recalled that Yilmaz once said that Ruffa has two different faces—the one she uses during private moments with him and another when she's with showbiz friends and reporters. He would also malign Ruffa by calling her a "traitor," before giving her the name "Brutus." The reference, apparently, is to the Shakespearean character who befriended the Roman Emperor Julius Caesar and then killed him.
NO BRUTUS. "It's good that he knows," Ruffa responded to Yilmaz's interview in her own interview with TV Patrol World last night, June 5. This was in reference to Yilmaz's confession about his shortcomings.
Surprisingly, despite all the tension, the two still communicate constantly through phone calls. Yilmaz, according to Ruffa, even invited her to Barcelona, Spain, to celebrate her birthday there on June 24.
ADVERTISEMENT - CONTINUE READING BELOW
"Yilmaz kasi is very charming and intelligent. So, I wasn't with him for no reason," said Ruffa of her estranged husband.
She again shrugged off the Brutus tag given by Yilmaz.
"He's very passionate kasi, kaya he tends to say hurtful things, tapos babawiin," she explained.
"Now I'm Brutus to him but I'm actually Cinderella! Next week, ako naman si Cleopatra!" Ruffa concluded. And this she said with her usual you-can't-get-me-down style.