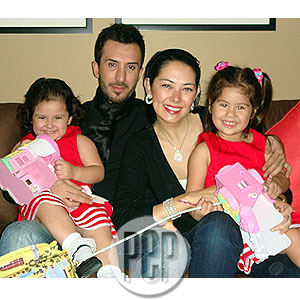 ---
"As long as Ruffa is a decent mother, I will not separate my children from their mother."
These were Yilmaz Bektas's exact words in response to the question of whether he was planning to fight for custody of his two daughters, Lorin and Venice.
In an exclusive interview aired last night, June 8, in 24 Oras, Yilmaz also mentioned that he has no problem if his children stay here in the Philippines, or any other country for that matter, as long as they're safe and sound.
"As long as they're safe and happy my daughters can live in the Philippines or any other countries [sic]," he further said.
The controversial Turkish millionaire admitted that he missed his children very much. But he understands that the situation calls for him to be separated even from his children, he said.
"I love them even I am not near them. But whenever my children need me, I [will be with them right away]," he mentioned before sealing the message with a kiss.
Yilmaz also spoke about the "wife-beater" issue that is being associated with him.
"I decided to [get a] divorce not because of physical wildness or something like that. I believe Ruffa too will agree with my decision. This is our personal life. I don't want to give more information about us."
He casually replied, "I think she is" when quizzed if he thinks Annabelle Rama was one of the reasons why his marriage with Ruffa caved in.
"I'm not blaming her because she's a mother and she doesn't know what is really our situation. Whatever Ruffa [tells] to her, she believes."
ADVERTISEMENT - CONTINUE READING BELOW
Taking a tough stance anew, Yilmaz then proceeded to let it known that he owes no one—particularly his mother-in-law Annabelle Rama—an apology.
"I think she is upset or angry. But still I won't apologize to anybody," he ended.