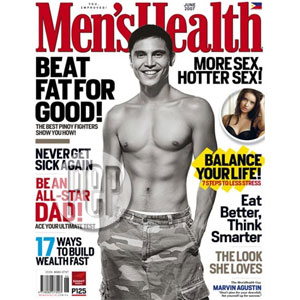 ---
Marvin Agustinis one of the most familiar faces in local show business. He has been in the limelight for quite some time—growing up from a teenybopper, matinee idol image, to a full-grown versatile actor taking on a multitude of roles both in movies and on TV. Now at 28, Marvin opens up to Men's Health magazine, the world's largest men's magazine, sharing his insights as he takes on real-life roles as an actor, businessman, and father to twin boys Sebastian and Santiago.
Marvin has definitely matured through the years, and has proven to the public that success entails a lot of hard work. "There's nothing that can't be done—if you have the will," Agustin firmly believes. Marvin has a lot to smile about—with a growing number of food establishments, acting awards, and healthy children he calls his own, Marvin can definitely say that success is finally his.
Marvin admits that although he may not have the traditional family set-up, this doesn't stop him from being a hands-on dad. As Marvin and other dads like him celebrate Father's Day this month, Men's Health pays tribute to all the fathers. Read about sons who grew up thinking of their fathers in an extraordinary light, and find out what makes their life-lessons so valuable.
ADVERTISEMENT - CONTINUE READING BELOW
Make this Father's Day extra special, get tips from the June issue of Men's Health magazine featuring Marvin Agustin on the cover, now available in magazine stands and bookstores at P125 per copy. Log on to
www.menshealth.com.ph
to join the online
Men's Health
community.