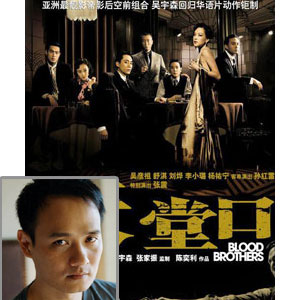 ---
First-time director Alexi Tan and his first feature film Blood Brothers, a $78-million grand production of John Woo and Terence Chang (Face/Off, Paycheck, Windtalkers, MI:2, Bulletproof Monk), earned its box-office success in Beijing with a whopping 22 million yuan ($2.9 million) between its opening on August 16 and last Sunday on August 26.
Alexi—who began his career as a stills photographer—made his crossover to film directing through a six-minute experimental short film called 17.17, which premiered at the Brooklyn International Film Festival.
This jumpstarted Alexi's career as a director. In 2002, he began helming TV commercials and music videos in Asia, and won numerous international awards for his works.
It was with Double Blade that Alexi caught the interest of producers John Woo, who eventually became his mentor, and Terrence Chang. The two film bigwigs expressed their intention to work with Alexi, and this paved the way for a star-studded production that includes Hong Kong superstars Shu Qi (The Transporter, So Close, The Eye 2) and Daniel Wu (The Banquet, New Police Story), Philip Kwok (The Touch, Brotherhood of the Wolf) as the action choreographer.
The film is set in 1930's China and tells of three close friends—Fung, Kang, and his little brother Hu—who move to the big city of Shanghai for opportunities and a better life. Little do they know that Shanghai's criminal underworld holds more than a few secrets. The three friends find themselves entangled in the web of temptation and deceit.
Money and beautiful women are all part of the city's vicious power struggle. Boss Hong—the most powerful crime figure in Shanghai—juggles his responsibilities as both allies and enemies plot to take away his power and control.
ADVERTISEMENT - CONTINUE READING BELOW
Fung must choose between the life of crime and unanswered love as he struggles with his own weaknesses and the danger of his new life while Kang, driven with his ambition to power, pursues his own goal at any cost.
Blood Brothers held its premiere night in Hong Kong on August 21, and is scheduled to close the 64th Venice Fim Festival on September 8.