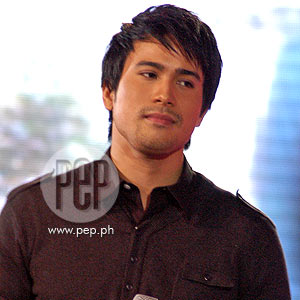 ---

Frustration was clearly etched on heartthrob Sam Milby's face when he was interviewed on The Buzz on October 21, about Lolit Solis's column saying that she saw him and Piolo Pascual together at the Hotel Sofitel last October 12.
According to Sam, what really ticked him off was the fact that Lolit's column in a tabloid, datelined October 15, clearly showed malice. The title alone, Sam said, suggested that he and Piolo were seen "naglalampungan."
Observers noted that the title suggested behavior that was not substantiated by the text of Manay Lolit's column. The word "naglalampungan," after all, implies such things as two people making out, or groping each other, or necking. This may be why Sam decided to surface and tell everyone his side of the story.
The Buzz co-host Boy Abunda's opening question to Sam was simple: Where was he that day?
"I was at home," Sam explained. "I was at home, and at three-thirty p.m., I went to Essensuals Toni and Guy at Galleria. I was at Essensuals from four, to around six to six-thirty, and after that I went to Gold's Gym in Alabang."
When asked if he and Piolo were the two guys Lolit saw at Hotel Sofitel, Sam answered with a firm: "Definitely not." He also said that Lolit's column was "below the belt."
"I am upset," Sam began, "because if she has an opinion and that's her opinion then that's fine. She doesn't know me. But if she's gonna write and completely fabricate the story, then that's where the line should be drawn."
ADVERTISEMENT - CONTINUE READING BELOW
That said, Sam revealed that he spoke with Piolo about the issue and the actions they may have to take.
Sam also reacted to Manay Lolit's statement that there was no malice in what she said and that she wasn't going to get anything from telling the story anyway.
"You know what, I would like to throw that back to her," an annoyed Sam said. "What are you getting out of this, honestly? You know it's made up and you know that it's completely fabricated, so I don't know what you're getting out of this. I don't want to judge you, I don't know you, and so I just don't know what you're getting out of all these."
After Sam heard about Lolit's column about two men in a hotel together, he said that he thought nothing about it at first. But when he found out that Lolit had named him and Piolo as the two men, he was very upset. She was way out of line, he said. Everything was made up, down to the last detail, added Sam.
As the interview progressed, the normally shy and quiet Sam became more vocal about his growing sense of aggravation.
"I'm demanding for retraction, a public apology," Sam said sternly. "If she doesn't retract or apologize, then I will sue. This is where you draw the line, this is below the belt. I know I'm still kind of new [in showbiz], but I just want to stand for what is right."
ADVERTISEMENT - CONTINUE READING BELOW
As the interview drew to a close, Boy asked what Sam's message was to his mom. The actor-singer said, "Mom, don't worry, just pray, and the truth will come out and righteousness will overcome."
Addressing Lolit, Sam said: "Ms. Lolit, you know that I don't have anything against you 'cause I don't know you personally. But what you did was below the belt, and you completely fabricated the stories. So I'm demanding for you to retract and publicly apologize, or I will sue."