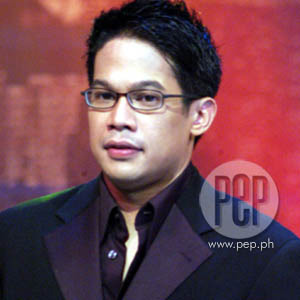 ---
For his 30th birthday, Showbiz Centralcelebrity juror DJ Mo Twister took the hot seat last October 21 to answerthe controversial questions of co-host Rufa Mae Quinto and guest jurors Janno Gibbs and entertainment columnist Mario Bautista.
Just as he does in his "Forbidden Questions" onradio, intriguing questions were thrown at him by the jurors—most of them wereabout the women who were linked to him or with whom he had an issue.
Janno first popped the question about DJ Mo's closest girlfriend in showbiz, Donita Rose. Heasked, "Niligawan mo ba si Donita?" DJMo answered, "No."
The controversial deejay admitted that he liked the actressonly when he first met her. He explained, "Hindi rin ako nag-try. Peroyung first time na nakilala ko si Donita siyempre nagagandahan ako, 'Wow, angganda naman ng girl na 'to.' But that's as far as it went, wala nang crush,walang ligawan, walang 'naging kami.'
"But the thing with Donita, if youdo ask her, before she got married, kung sino ba ang gusto mo i-marry one day,and she'll say someone who's very much like me. Ako naman, if I were to get married one day, someone na very muchlike Donita rin."
ADVERTISEMENT - CONTINUE READING BELOW
PAST GIRLFRIENDS. Mario asked Mo if heever thought that he caused the downfall of Janette McBride's career, who was at the peak of her showbiz career then.
DJ Mo denied this. "I think siya[Janette] yung unang nag-decide umalis, e, ako yung nag-follow lang ako. I think the decision of leaving na ginawani Janette McBride was really something that she wanted to do."
This led to a common question in "Forbidden Questions": Who did he think is better in bed, Janette or another former girlfriend, Bunny Paras, with whom he had a daughter?
DJ Mo replied, "I don't think I can answer that kasitinanong ko 'yan last time with one of our guests and pinagalitan tayo yata ngpowers-that-be [management]. Let me just rephrasethat, who did I enjoy more in a relationship?
"Siguro, I really love Janette very much. I wish her the best and sana if there'sany time na I can still do anything for her in a friendship manner, then I willdo it. She was really super wonderful."
ADVERTISEMENT - CONTINUE READING BELOW
RADIO PARTNERS. Rufa Mae probed DJ Mo about his misunderstanding withformer radio co-host Maui Taylor. Headmitted that he still has not resolved the issue with Maui. "But not because hindi ko siyamakasundo. We haven't have the chancena mag-usap. But I would love to meet,you know, just to patch things up."
DJ Mo also talked about his current radio partner AndiManzano, who is being linked to him.He denied rumors that they are into a relationship rightnow.
He said, "Andi Manzano is probably the closest friendthat I have right now—not just in the industry but anywhere. Alam ko nali-link kami ni Andi, yung partnerko sa radio, and why not? She'sbeautiful, she's very friendly and we're superclose. Pero right now it's nothing."
KILLER QUESTION.As promised at the beginning of the segment, DJ Mo revealed the"killer question" that was prepared by Showbiz Central's staff. The question was, " Si Kristine Hermosa rawang totoong dahilan ng paghihiwalay ninyo ni Bunny Paras noon. At mahal mo pa rin si Kristine kaya't gustomo siyang balikan ngayon." True or false?
ADVERTISEMENT - CONTINUE READING BELOW
The controversial DJ bravely answered, "No, hindi siya yungdahilan mismo. Kami, yung relationshipnamin ni Bunny was really like… Ayoko naman sabihin na doomed, it wasn'tdoomed. Hindi magwo-workout.
"It doesn't matter who was in the way, and Kristine was notin the way of relationship namin ni Bunny.Wala siyang [Kristine] hold on the thing. Hindi naman naging kami ni Kristine but, of course, at the time Ifelt very much for Kristine. Like Ireally, really like her company, we were partners sa isang TV show."
When asked if he still loves Kristine, Mo replied: "Theanswer is 'No'. Matagal na yun, e. That was a very long time ago. Right now, we both moved on."