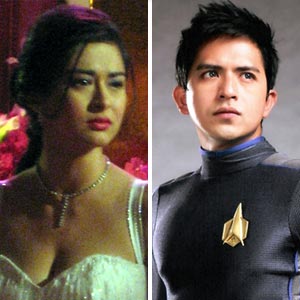 ---
Marimar and Zaido both reached unprecedentedheights in their respective primetime campaign. Last Tuesday, October 23, Marimarstepped on the gas further as it accelerated to its strongest showing to date,with a 47.9 percent rating.
Zaido also raced to its most impressive showing since its debut last September 24. Placingsecond behind Marimar, the Pinoy metal hero series amassed a 40 percentclip, keeping pace with the primetime leader.
Although their ratings dropped last Wednesday (Oct. 24) andThursday (Oct. 25), Marimar and Zaido maintained their top two positions, alongwith perennial third placer 24 Oras.
While TV Patrol World placed fourth Tuesday and Wednesday,it slipped to No. 7 Thursday night; Hwang Jini took the No. 4 spot instead.
ABS-CBN's reality show, Pinoy Big Brother Celebrity EditionSeason 2, continues to make its presence felt as it consistently moves to theratings chart.
Unfortunately, this cannot be said of Lastikman, whichdropped to No. 9 last Tuesday and to No. 10 Wednesday and Thursday. This may beattributed to its timeslot change, which Pangarap na Bituin is now benefiting.
The daytime contest, on the other hand, continues to showsome erratic activity.
On October 23 and 24, Kung Mahawi Man ang Ulapretained the top spot with ratings of 26.1 percent (it's highest to date) and 25.3percent, respectively. But yesterday, the Dennis Trillo-Nadine Samonte soapopera dropped to second place as Eat Bulaga zoomed back to No. 1 with 21.7percent rating, compared to Mahawi's 20.8 percent.
The pushing and shoving was actually a good sign as it keptthe race from being too predictable.
After notching the second spot overall last Tuesday, Whammy!Push Your Luck dropped to No. 7 Wednesday and to No. 5 Thursday. Its rival,Kapamilya Deal or No Deal took the fourth spot last Tuesday and Wednesdaybefore climbing to No. 3 Thursday.
ADVERTISEMENT - CONTINUE READING BELOW
Here are the Top 10 daytime and primetime programs fromOctober 23 to 25, according to the overnight ratings conducted by AGB Nielsen Philippinesamong Mega Manila households:
October 23 (Tuesday)
Daytime:
Kung Mahawi Man ang Ulap (GMA-7) - 26.1%
Whammy! Push Your Luck (GMA-7) - 26%
Pasan Ko ang Daigdig (GMA-7) - 25.7%
Kapamilya, Deal or No Deal (ABS-CBN) - 24%
Daisy Siete (GMA-7) - 22.5%
Couple or Trouble (GMA-7) - 22.2%
Eat Bulaga! (GMA-7) - 21.9%
Wowowee (ABS-CBN) - 20.5%
Pilipinas, Game KNB? (ABS-CBN) - 19.1%
Takeshi's Castle (GMA-7) - 18.4%
Primetime:
Marimar (GMA-7) - 47.9%
Zaido (GMA-7) - 40%
24 Oras (GMA-7) - 36.9%
TV Patrol World (ABS-CBN) - 27.5%
Kokey (ABS-CBN) - 26.6%
Hwang Jini (GMA-7) - 24.2%
Pangarap na Bituin (ABS-CBN) - 23.1%
Pinoy Big Brother Celebrity Edition 2 (ABS-CBN) - 22.3%
Lastikman (ABS-CBN) - 21.6%
Ysabella (ABS-CBN) - 20.7%
October 24 (Wednesday)
Daytime:
Kung Mahawi Man ang Ulap (GMA-7) - 25.3%
Couple or Trouble (GMA-7) - 23.5%
Pasan Ko ang Daigdig (GMA-7) - 23.1%
Kapamilya, Deal or No Deal (ABS-CBN) - 23.1%
Eat Bulaga! (GMA-7) - 22.3%
Pilipinas, Game KNB? (ABS-CBN) - 21.9%
Whammy! Push Your Luck (GMA-7) - 21.4%
Daisy Siete (GMA-7) - 20.9%
Wowowee (ABS-CBN) - 19.5%
Takeshi's Castle (GMA-7) - 17.1%
Primetime:
Marimar (GMA-7) - 46.6%
Zaido (GMA-7) - 38.4%
24 Oras (GMA-7) - 32.4%
TV Patrol World (ABS-CBN) - 25.5%
Pinoy Big Brother Celebrity Edition 2 (ABS-CBN) - 24.2%
Kokey (ABS-CBN) - 23.2%
Ysabella (ABS-CBN) - 22.9%
Hwang Jini (GMA-7) - 21.6%
Pangarap na Bituin (ABS-CBN) - 21.2%
Lastikman (ABS-CBN) - 20.6%
October 25 (Thursday)
Daytime:
Eat Bulaga! (GMA-7) - 21.7%
Kung Mahawi Man ang Ulap (GMA-7) - 20.8%
Kapamilya, Deal or No Deal (ABS-CBN) - 20.1%
Daisy Siete (GMA-7) / Pasan Ko ang Daigdig (GMA-7) - 18.8%
Whammy! Push Your Luck (GMA-7) - 18.5%
Wowowee (ABS-CBN) - 16.7%
Pilipinas, Game KNB? (ABS-CBN) - 16.1%
Takeshi's Castle (GMA-7) / Couple or Trouble (GMA-7) - 15.9%
SiS (GMA-7) / Prinsesa ng Banyera (ABS-CBN) - 12.8%
Meteor Garden (GMA-7) - 12.4%
Primetime:
Marimar (GMA-7) - 42.6%
Zaido (GMA-7) - 31.8%
24 Oras (GMA-7) - 29.4%
Hwang Jini (GMA-7) - 25.5%
Kokey (ABS-CBN) - 25.4%
Pangarap na Bituin (ABS-CBN) - 24.1%
TV Patrol World (ABS-CBN) - 24%
Ysabella (ABS-CBN) - 21.8%
Pinoy Big Brother Celebrity Edition 2 (ABS-CBN) - 21.1%
Lastikman (ABS-CBN) - 20.6%
Source: AGB Nielsen Philippines