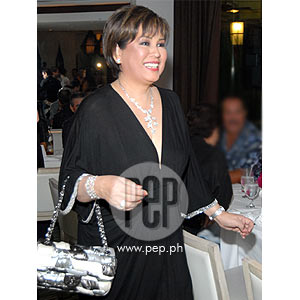 ---
The venue is adorned simply. Four life-sized tarpaulins cover the wall. Roses serve as centerpiece to each table. Lights are dimmed; music of the '70s plays in the background. But the occasion that night, October 28, is not ordinary at all. Aside from the fact that it is the day prior to barangayelections, it is also the birthday of Annabelle Rama.
At 8:30 p.m., the entire Thai at Silk restaurant inPiazza, Serendra, The Fort suddenly lights up. Even early birdsDouglas Quijano and his ward Wendell Ramos, Eat Bulaga lady chief MalouChoa-Fagar, YES! magazine's Anna Pingol, and Melissa Mendez stop in their tracks to focus their attention on the woman who's approaching the entrance. And she's none other than the birthday celebrant, who looks definitely younger than 55. Annabelle's black dress, silver Chanel bag, anddiamonds have literally brought more elegance and sparkle to the room.
After acknowledging the presence of her guests, she issues last-minute instructions to her staffand the waiters.
ADVERTISEMENT - CONTINUE READING BELOW
"'Day, bigyan na ng wine ang table na ito." "Maglagay ng table dito." "Yung lechon, hiwain na." "Dapat may magbantay sa entrance."
When she reaches our table, she says it was Ruffa whochose the venue. "Masarap kasi ang pagkain." The bubbly birthday lady talks non-stop—from her simple wish to Chanel bags and shoes to lechon.
"Hay,tuwang-tuwa ako at natupad naang pangarap ko na kantahan niya ako," she exclaims. (Her husband Eddie Gutierrez sang his Elvis Presley favorietes, "Love Me Tender" and "Loving You," on television that afternoon.)
"Itong bag ko? Chanel. Bigay lang sa akin iyan. Meron akong kaibigan na mag-asawa sa States, binigyannila ako ng limang sapatos at limang bags. Lahat Chanel. Pero hindi namanako showbiz kaya yung apat na sapatos, binigay ko kay Ruffa ang apat. Sa akin iyongisa. Yung bags at mga damit niya sa TV, galing lahat iyon sa akin. Binigay ko na langsa kanya."
ADVERTISEMENT - CONTINUE READING BELOW
Then she continues, "Yung lechon, sampu, pero walo langnandito. Pinadala ko sa taping yung dalawa. Galing sa Cebu."
THE GUESTS. The invitation says "7:30 p.m." but guests start arriving at 9:00 p.m—GMA Films PresidentAnnette Gozon-Abrogar and husband Lito, Richard Gomez with wife Lucy Torres and herbrother Matt, and GMA-7 top executives Wilma Galvante, Marivin Arayata,Lilybeth Rasonable, Darling de Jesus, Redgie Magno, and talent manager ShirleyKuan.
The hosts in the Gutierrez family, Raymond and Ruffa, head straight toSerendra right after Showbiz Central and The Buzz. Richardarrives a bit late; Annabelle says he had to finish his pictorial for Kamandag.Tonton Gutierrez, wife Glydel Mercado, and Ramon Christopher also make time for the special day of their stepmother.
Bystanders have a blast watching the celebrities come inand out of the intimate party. Ruffa's friends—Gretchen Barretto, NadiaMontenegro, Almira Muhlach, Ana Roces, Joyce Jimenez, Assunta da Rossi—bring in glam and fun. Raymond's showbiz buddies Bianca King, Ehra Madrigal, JC de Vera, Rhian Ramos, andAlfred Vargas are also there.
ADVERTISEMENT - CONTINUE READING BELOW
Also part of the guest list are German Moreno, Phillip Salvador, singing couple Ogie Alcasid and Regine Velasquez, Rufa Mae Quinto, Pia Guanio, Sunshine Cruz, Mark Anthony Fernadez, John Lapus, Faith Cuneta, and SnookySerna. Solar Sports bigwig Wilson Tieng and Drs.Manny and Pie Calayan also grace the occasion.
THE FOOD AND DRINKS. Aside from the crispy lechon,the long buffet table serves pomelo salad, broccoli leaves and mushrooms, fishfillet, beef curry, Thai barbeque chicken, tapioca, and kakanin topped with ripe mango. Thepeople in our table agree with Ruffa, "The food is yummy."
Due to the scheduled election the next day, October 29,the liquor ban is enforced. But in Tita Annabelle's, as most people in showbiz callher, party—there's a downpour of beer and red wine.
BIRTHDAY WISHES. Close to midnight, Ruffa asksthe Asia's Songbird to sing happy birthday. Regine gladly obliges.
The mom, obviously brimming with happiness, blows the lone candle on her cake and acknowledges MET Whitening soap,a whitening product Ruffa endorses, for sending the cake.
ADVERTISEMENT - CONTINUE READING BELOW
Eddie Gutierrez, the head of the family, says his brief message:"Lahat ng wish mo came true. Nung bata ka, gusto mong maging beauty queen,gusto mong maging actress. I'm so happy na natutupad na ang mga wishes mo."
All the Gutierrez siblings Tonton, Ruffa, Elvis, Rocky,Richard, Raymond, and Ritchie Paul have unanimous wish: "Thank you. More timefor yourself. We love you. Good health." Further, Raymond makes a special announcement,"'Ma, bati na kami ni Richard." The twins, says a source, have not been on speakingterms due to a mild tiff that happened in SOP.
The "adopted" of the Gutierrez's also takes the microphone from Ruffa and Rufa Mae to greet the celebrator.
Gretchen Barretto: "What am I supposed to say? I'm adopted by thisfamily ever since I was 12 or 14. Ako lang pala ang nag-eighties outfit kasi sabini Ruffa. Niloko na naman ako ni Ruffa."
Rufa Mae Quinto: "Stay beautiful. Good health. Yung mga alahas,alagaan."
ADVERTISEMENT - CONTINUE READING BELOW
Snooky Serna, whom Ruffa introduces as "the long-lost daughter" ofthe Gutierrezs: "Tita Annabelle, mahal na mahal kita."
Check out the GALLERY for the messages of more celebrities.
When asked to deliver a speech, the well-admired mothersays, "Maraming salamat sa inyo." Then adds in jest, "Yung mga hindi dumating,kaaway. Thank you at dumating kayo."
In the different corners of the venue are hugeportraits of Annabelle Rama—there's Annabelle the mom, thewife, the manager, the friend. And may we add, "the gracious hostess." Everyonein the party sure feels glad to be invited to her birthday.