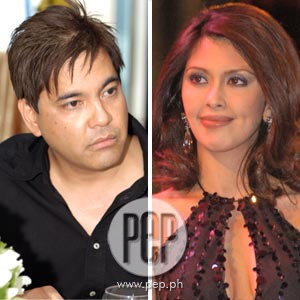 ---
Beyonce Knowles's concert at The Fort last November 7 would havebeen the first time for Martin Nievera and Pops Fernandez to see each other ever since the latter's controversial article in YES!magazine October issue and the former's emotional interview in The Buzz last October 7.
This afternoon, November 10, Entertainment Live's report confirmed thatthe former husband and wife did meet up at the said concert. Theirstatements, however, proved otherwise.
"I didn't see him, actually," Pops said. "Sobrang daming taokasi, though I knew he was there."
Martin, on the other hand, wanted to see Pops and keptlooking for her at the venue.
The two had been exchanging statements for the past month. A few days after the Concert Queen's revelation in YES! was released to the newsstands, Martin's initial reaction was "the best reaction [to the issue] is not to have one." But the very vocal dad of Pops's boys couldn't stop himself from talking.
When the press turned to Pops and asked her about the said issue, sheadmitted she was getting tired of it.
"Nakakapagod na rin di ba?" Pops explained. "I want to talkabout other things, really. I kind of poured out my heart also [in the YES! article], and I think it's a signna I'm done with that whole thing."
Martin had something else in mind. "Akala ko nag-heal na 'yong sugat, e," Martin shared with EL. "E, dinikdik ulit 'yong sugat kaya'tayun, nagkasugat nanaman. At 'yong sugat, mas deep, mas malaki. Anyway, 'yongsugat na 'yon, hindi mag-heal because malaking-malaking sampal sa akin iyongnangyari na 'yon because I was just minding my own business and I came to thePhilippines for a summer vacation and BOOM! I'm the bad guy again."
ADVERTISEMENT - CONTINUE READING BELOW
That said, Martin added that he wasn't countingon an invitation for Pop's upcoming "Diva-licious" concert since their relationship isstill hanging by a thread.
He said, "It doesn't make sense that youwrite this 20-page article, then you say, 'I hope Martin comes to my concert.'Why? Why do you ask yourself that question? If I'm welcome at that show...Idon't know. But I want to be in this concert. I should be in this concertbecause I'm her number one fan."
And Pops?
"Everybody's welcome, it's a celebration, siyempre," Popssaid. "We'll see."
When asked if she plans to have a follow-up story to her controversial article, Pops joked: "Kaya 'nyo pa ba ng chaptertwo? Huwag na, ok na 'yon."
When informed about Pops' statement,Martin's response was: "If it's true that she has this chapter two, I hope it's a happychapter."
Meanwhile, Martin's concern was also on his boys, Robin and Ram. He said they're definitely affected by the way things were going between their parents.
"It's very possible that Robin and Ram are affected, although,hindi sinasabi sa akin, hindi sinasabi kay Pops. Pag nag-uusap-usap kami niRobin, nag-email siya sa akin na binasa niya 'yong buong YES! magazine atna-shock siya. But he didn't believe everything. He remembered some things thatwere an issue when he was a little boy."
Now that Christmas is fast approaching, will Robin and Ram spendit with their dad, or with their mom?
"Ram will be coming to Las Vegas to join us, while Robin willbe here with his mom, so it's going to be a weird Christmas," Martin revealed.
ADVERTISEMENT - CONTINUE READING BELOW