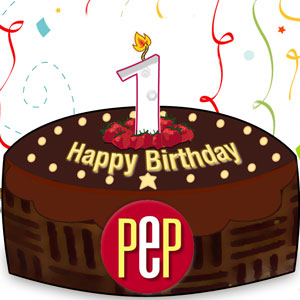 ---
We've reached our first anniversary—and we can't be more excited, more overworked, or more grateful.
Our excitement is obvious. You see it in the way we're jumping around all the time uploading something newer, better, grander on our Home page. If it isn't yet another Top List,it's more Couples, or more Celeb Homes, or more Celeb Bloggers! Filled with photos and interviews and data, these are always fun—and at times even thoughtful—slices of show business.
Of course, all this leaves us overworked. The research, the networking, the discussions, the negotiations, and the rushing here and there to produce the sections of PEP occupy us throughout the week, week after week.
Yes, seems like the online world never sleeps!
But what do you know? We're having fun even as we walk sleep-deprived, eat on auto-pilot, and type with lids taped open. (Well, that's an exaggeration, but you get the drift.) We know we are because we're not snapping at each other. Each one of us tells the other, "Go home!," but nobody is ever in a rush to do that.
And we know why.
It's you.
You make us jump.
You get us excited.
You keep us alert.
You're there.
You're making comments.
You're criticizing, you're praising, you're correcting, you're acknowledging.
You're watching us.
You're with us.
And we couldn't be happier. Why, we're grateful!
With you snooping around all the time, and from different time zones yet, none of this feels like work. Sincerely, one year after, we are where we began: Right here enjoying PEP!
So stay some more. Stay for good. We love the company.
Click here to recall PEP's firsts, facts, and feats.