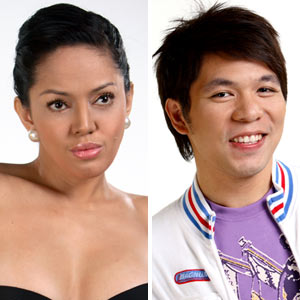 ---
Many avid viewers of Pinoy Big Brother (PBB) CelebrityEdition 2 were surprised by the sudden decision of former Orange & Lemons frontman Mcoy Fundales to exit from the PBB house. Mcoy along with comedienne Ethel Booba left at 3a.m. today, November 22.
"MusikerongDad" Mcoy flared up yesterday, November 21, after Big Brother raised the issue of plagiarism inconnection with his script for housemates' task, which was to produce a15-minute film. Big Brother compared Mcoy's plot with Gabriel Garcia Márquez's short story, The Ghosts of August.
Mcoy pointed out that the group could hardly create scenesthat will look more Pinoy because the interior of the house is inspired by theVictorian era. Even the garden appearsforeign, Mcoy said, because of the cherubim and peacock statues.
Aside from being offended, Mcoy said that thescandal that was faced by his former band two years ago also stigmatizedhim. Orange & Lemons allegedly rippedoff "Pinoy Ako," PBB's theme song for its first season, fromthe song of UK-based '80s band The Care titled "Chandelier."
Big Brother called Mcoy inside the confession room to setthings straight after seeing that the former was still affected by the wholeincident. But their one-on-oneconversation did not resolve anything. In fact, he became more furious with their exchange.
PRANING THEORY. After Mcoy's session with Big Brother in the confession room, Ethel told about her own confusion in the house. Ethel, dubbed as the "Pasaway ng Bayan," put forward their "Praning Theory" aboutMariel's status inside the Big Brother house. They were suspecting that Mariel is not a guest housemate but isactually an official housemate like them.
ADVERTISEMENT - CONTINUE READING BELOW
Ethel and Mcoy then said that they are both prepared to be"kicked out."
Almost two weeks ago, Ethelpacked her things and was very determined to leave the house. But she calmed down after BigBrother spoke to her alone in the confession room. A few days after Ethel's plan to leave thehouse, Mcoy confessed to Kuya that he wanted out because he feltthat he had already served his purpose inside the Big Brother house.
In Pinoy Big Brother Primetime tonight, the show will givethe details about the decision of these two celebrity housemates to leave.
WHO'S NEXT? Now that two housemates are out, will a new housemate come in?

In this year's Celebrity Edition, it seems that the BigBrother house became more open to guest celebrity housemates. Viewers have witnessed how Kuya trappedMariel Rodriguez inside his house, making her the guest celebrity housemateuntil today, November 22. ToniGonzaga also became a victim of Kuya after he brought the medallions fornomination inside the house. Tonistayed inside the house for only a few days and went out in time for hermother's birthday.
This coming weekend, Mariel's wish would come true asshe is set to leave the house. However, there's a strong rumor that new Kapamilya star Angel Locsin will replaceMariel as the guest celebrity housemate.
Let's see. We're keeping our eyes open for confirmation of this rumor.