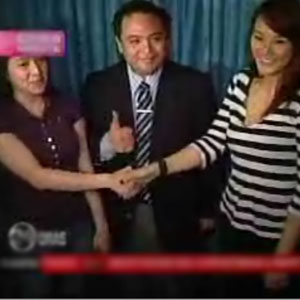 ---
Carlene Aguilar's interview on The Buzz last November 18 seemed to turn the tide of theword war between her and Cristine Reyes. They decided to peacefully talkthings over and mutually end an issue that obviously stressed both of them.
The November 18 interview featured a calm and objective Carlene as sheexplained her side to the story. Cristine and her lawyer, Atty. Dexter Lacuanan, happened to be watching the show on that day; they discussed it over the phone and Cristine decided to meet up with Carlene to settle the issue amicably. Atty.Lacuanan then called up Cristy Fermin so that he could talk to Carlene, who was still in the studio at that time.
"Tinawagan kami ni Ms. Yabut, yung VP ng The Buzz," Carlenerelated. "After daw kasi napanood ni Atty. Lacuanan yung interview ko lastSunday sa The Buzz, parang tinatanong nila kung gusto nila ako makipag-ayos ormakipag-usap."
In a separate interview with Atty. Lacuanan, he said, "I sawher [Carlene's] sincerity, I saw her pain. So what I did was, I initially calledmy client [Cristine] and also asked for her reaction. She felt Carlene's painand she likewise understands where Carlene is coming from. I called up CristyFermin and asked for help to contact Carlene."
When news reached Carlene, she didn't think twice about a settlement, although she felt unsure if she was ready for the meeting.
"Sabi ko, sige para matapos na lahat ng problema at huwag namahantong sa mas malaking problema. So, pumayag na din ako. Aaminin ko din namedyo mixed emotions kasi hindi ko alam kung ready na ba akong makipag-usap orano'ng feeling kung makikita ko na siya," said Carlene.
ADVERTISEMENT - CONTINUE READING BELOW
Carlene and Cristine met up at the Rembrandt Hotel in Quezon City last November 23. Both women cried as they hugged and shookhands after sharing an intimate conversation. The tension felt by bothparties before the meeting was finally shattered and the atmosphere became harmonious.
An equally relieved Atty. Lacuanan announced: "We would like to announce that both parties have already cometo an agreement. We have decided that it was all a big misunderstanding. Partof the agreement was [that] both parties will no longer make any statements againsteach other.
"So on Monday [November 26], I would be filing, or on the next few days,file the appropriate documents to withdraw the case of slander and oraldefamation which we filed against Carlene."
A happy Carlene said, "No worries na po.Sobrang saya lang talaga na tapos na itong problema na ito. Makaka-concentratena ako sa anak ko at sa pamilya."
She added, "Wala na lahat ng wall, nawala lahat ng harang.Pagkakamay namin parang... yun na."
For her part, Cristine said, "Sobrang nakalma na at parang nabunutan ka ng tinik. Makakatulog ka na nga din sa gabi."
Carlene, who showed Cristine a photo of her son with Dennis Trillo, Calix Andreas, said, "Na-realize ko din na hindi naman siya ang kaaway, nagkaintindihan nakami."
How is Carlene after the storm?
"Sobrang saya ko at hindi ko ma-explain na gaano ka sayadahil iba ang feeling," expressed Carlene.
What did Atty. Lacuana tell her that made her agree to the attorney's request for a meeting with Cristine?
"Isa lang sinabi niya at yun ay naiintindihan daw ako niCristine. Para sa akin, okay na 'yon," she said.
ADVERTISEMENT - CONTINUE READING BELOW
"Natuldukan," Cristy pointed out, "ang kaso sa pagitan ninyoni Christine. Nasaan si Dennis Trillo sa lahat ng ito?"
"Nasa kalawakan!" Carlene joked, probably referring it tothe show where Dennis stars, Zaido. "Hindi ko po alam."
In a more serious tone, Carlene ended, "Alam na po ng taong'yon kung ano ang ipinaglalaban ko para sa kanya. Sapat na 'yon siguro athanggang dun na lang talaga. Kahit na sabihin pa na mahal ko siya, hindi posapat na pagmamahal ko lang. Kaya ko nang mabuhay nang wala siya. After whathappened, kailangan ko nang mag-isip."