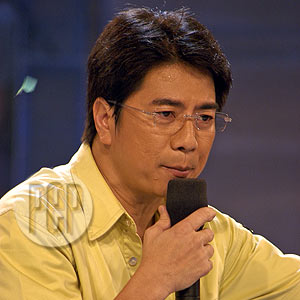 ---

Earlier today, December 18, Wowowee host WillieRevillame made reference to the TV ratings controversy involving his homenetwork ABS-CBN and AGB Nielsen Media Research Philippines, the data gatheringorganization responsible for determining TV ratings. The Kapamilya network hasrecently filed a P63-million civil suit against AGB for "damages andinjunction, with an application for a temporary restraining order."
A few hours ago, registered users of the site uploadedvideos in the video-sharing site YouTube titled "Kita Nyo?" that show how Willie and his co-hostsMariel Rodriguez and Valerie Concepcion rehearsed various scenarios involvingthe same person and the same golden wheel used as a prop in the "Wilyonaryo" segment of the Wowowee.
The registered user named "absmadaya" uploaded a three-minutevideo while "gaboikent" shared a five-minute video showing the same rehearsal of Wowowee.Willie and his co-hosts are practicing the segment "Wilyonaryo," wherein thecontestant is asked to choose a colored wheel. In this video, Willie practicesopening and closing the flap that covers the number inside.
ADVERTISEMENT - CONTINUE READING BELOW
A technical staff member of the show puts a gold wheel inthe middle and Willie tells him, "Masikip talaga." The male staff member makesadjustments and helps him "operate" the gold wheel. Willie rehearses changingthe number inside the gold circle. He opens the flap to reveal a portion of thenumber that makes it undeniably a number five, but then he closes the flap againand it appears to be the straight edge of a totally different number. But whenWillie pulls it off completely, it is again a number five.
In the first scenario, Willie opens the gold wheel revealinga number 5, indicating that the contestant wins P500,000. The co-hosts and thebackup dancers all rejoice at the good fortune. As the video continues, theyalso rehearse the scenario wherein a number zero is revealed using the samegold wheel. The contestant loses, to everyone's dismay.
"Wilyonaryo" is the controversial segment wherein Willieaccidentally showed the wrong number in the jackpot portion of the August 20episode of the noontime show. It also started the word war between Willie andfellow TV host Joey de Leon of rival program Eat Bulaga. The Kapamilya network explained that the mistakewas a result of a "technical glitch." By October, Wowowee discontinuedthe segment and replaced it with the "Merrygalo" segment.
ADVERTISEMENT - CONTINUE READING BELOW
When asked to comment about this rehearsal video, ABS-CBN Corporate Communications Head Bong Osorio told PEP (Philippine EntertainmentPortal), "That's an old issue. That has been going on for months, it stopped...Wedon't know why it's resurfacing. It's an old issue. It has been discussedlengthily in the tabloids, TV, and afternoon programs. It has quietly taken aback seat until this afternoon."
PEP asked him who could be the people behind this video andhe answered vaguely, "I can only surmise..."
There are talks that the "leakage" of the rehearsalvideo may have been brought about by the TV ratings war going on.