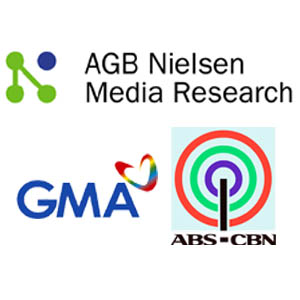 ---

Speaking for AGB Nielsen Media Research Philippines, Ms. Maya Reforma, thegeneral research manager of the research group, issued a statement inreaction to the P63 million civil case filed by ABS-CBN last Friday, December14.
The two-page letter was faxed to PEP (PhilippineEntertainment Portal) earlier today, December 19. Ms. Reforma expressed disappointment: "The filing of the suit by ABS-CBNagainst us without full observance of this provision is by the terms of ourcontract premature, and is extremely disappointing."
She explained that she had previously told the Kapamilya network that they were already in the process of investigating the anomaly. Infact, she states, "We initiated an investigation and informed the industry andall stakeholders that certain panel homes had been contacted by representativesof parties being linked to GMA-7."
Ms. Reforma ends her statement by saying that AGB Nielsenis confident about the quality of their data and that they are "prepared todefend the integrity of its ratings data before the courts."
Accordingto its official website, AGB Nielsen Media Research Philippines(previously known as Nielsen Media Research) has been providing the Philippinebroadcast and advertising industry with television audience measurement datasince 1992.
In a press statement, Maya Reforma, AGB Nielsen generalmanager, said that it had previously advised ABS-CBN it was undertaking anexhaustive investigation into the activities of GMA and analyzing whether ornot these activities had an impact on viewing data. She added that its contractwith ABS-CBN expressly grants AGB Nielsen a reasonable period not to exceed onemonth to investigate issues concerning quality of data and present its findingsin writing. "The filing of the suit by ABS-CBN against us without fullobservance of this provision is by the terms of our contract premature, and isextremely disappointing."
Ms. Reforma further stated that the company takesseriously any allegations of alleged attempts to influence results of ratingsthrough unethical practices. "This is standard practice for our company whichconstantly makes vital investments to protect the integrity of ourservices," she said.
ADVERTISEMENT - CONTINUE READING BELOW
Reformasaid, "Truth is, it is AGB Nielsen itself which is seeking industryguidelines over media firms' conduct of promotional campaigns to improve theirreach in certain, areas, especially in the provinces."
Shesaid part of these promos which AGB Nielsen has uncovered involvehouse-to-house sales pitches to improve ratings from parties being linked to anetwork.
Thecomplaint filed against AGB Nielsen is anchored on allegations that networkGMA-7 had beenable to discover the identities of some household participants in AGB Nielsen'sdata gathering system, reportedly in the guise of conducting its house-to-housepromos.
Selected households in thesurvey panel are family members who voluntarily sign up to take part inAGB Nielsen's TAM (Television Audience Measurement) panel research. Theidentities of TAM participants are kept strictly confidential.
Reforma said that AGB Nielsenhad been in constant communication with ABS-CBN since the issues were raised onNov. 20, 2007. "We initiated an investigation and informed the industryand all stakeholders that certain panel homes had been contacted byrepresentatives of parties being linked to GMA-7. This was done byAGBNielsen to secure the cooperation of the industry to improve self-regulatoryguidelines for promotional campaigns of this nature and to ensure thetransparency of the investigation process."
Despite AGB Nielsen writing toABS-CBN asking to be allowed to complete its investigation and requestingevidence to support the station's claims, ABS-CBN sent AGB Nielsen a demandletter, asking for the total shutdown of its ratings service.
However, Reforma said until suchtime as there is hard evidence to indicate the ratings data had been undulyinfluenced by GMA's activities, it would continue to provide data to themarket.
"AGB Nielsen is managing thisdifficult situation in a responsible and professional way with the support ofkey industry bodies, agencies and advertisers. To us, the involvement of theentire industry is most important in settling matters such as this, as theindustry players deserve to know the real viewing habits of the public toenable them to make very critical commercial decisions.
ADVERTISEMENT - CONTINUE READING BELOW
"We therefore welcomethe opportunity to present this problem to the stakeholders and let them agreeto cooperate to protect the integrity of the data. The case may hopefully catcheveryone's attention and force some industry reforms in terms of ethicalpractices and behavior. AGB Nielsen is confident that its system has been ableto thwart any attempts at distorting the data, and is prepared to defend theintegrity of its ratings data before the courts," said Reforma.