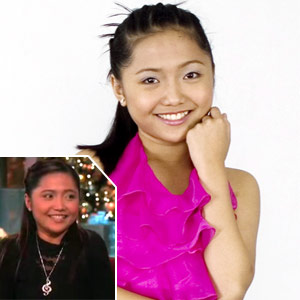 ---
Internet singing sensation Charice Pempengco received twostanding ovations from the audience of The Ellen DeGeneres Show that happenedrecently.
The 14-year-old Little Big Star finalist showed offher singing talent that wowed the American audience including the EmmyAward-winning host Ellen DeGeneres.
It was late November when Ellen announced on her show thatshe wanted this teenager singer from the Philippines—who sang in a televised talent contest in Korea titled Star King that hit the video-sharingsite YouTube—to guest on Ellen. When she learned about Ellen's wish,Charice said, "Nagulat po ako, parang napaisip ako, 'Wow! Pang-international!'"
Indeed she looked like an international star when she sang Dreamgirlsoriginal soundtrack "And I Am Telling You I'm Not Going." After this, Charice hugged Ellen while intears.
"You're amazing! You're amazing!" Ellen gushed. She continued, "We just witnessed thebeginning of this girl's career that we're gonna go, 'I was there, I saw her.'She is unbelieveable."
ADVERTISEMENT - CONTINUE READING BELOW
And then, Charice got a second standing ovation when sheperformed Whitney Houston's "I Will Always Love You." In fact, in YouTube, one user commented, "That's the same voiceas Whitney Houston."
As for the bonus surprise, Ellen gave Charice an iPod Touchto replace Charice's iPod, which was lost during her flight to the UnitedStates.
With all the warm welcome and praises that she got for herguest appearance in The Ellen DeGeneres Show, Charice was left speechlessand could only say, "Oh, my God! Oh, my God! Thank you very much."