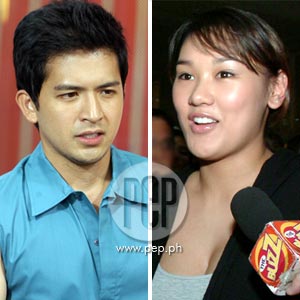 ---
Dennis Trillo apparently had enough.
Reacting to ex-girlfriend Carlene Aguilar's recent statement accusing the young actor of being "kuripot" in giving financial support to their love child, Calix Andreas, Dennis sent entertainment columnist Ricky Lo a breakdown of the amount allegedly asked by the former beauty queen for their son.
Food allowance [milk, vitamins, water] - P10, 000
Home / lodging allowance - P10, 000
Clothing allowance - P10, 000
Utilities - P5, 000
Travel allowance - P5, 000
Laundrywoman's salary - P4, 000
Yaya salary - P6, 000
Doctor's fee and vaccinations - P5, 000 to P10, 000
Total amount - P50, 000 to 60, 000 per month
Dennis admitted honestly that he felt the amount being asked from him is just too much. Carlene, on the other hand, argued that she's merely basing the figures "in accordance with the law."
In an email letter she sent to Showbiz Central, Carlene derided Dennis for giving a paltry sum intended for Calix placed in a red Chinese envelope commonly known as "ampao" last December 16.
"Guess po how much? Five thousand pesos!" exclaimed Carlene in disbelief. "Nalaman niya kasi na 'yan daw ang amount na binibigay ng isang actor sa mga pamilya niya, eh, mas mahal pa dun yung suweldo ng yaya ni Calix," she added.
The entire amount went back to Dennis, as revealed by Carlene: "So pag-uwi ng parents ko, naawa kay Dennis na baka daw mas kailangan pa niya yung pera dahil madami siyang sinusuportahan kaya ibinalik kaagad sa condo niya ang ibinigay niya."
UNFAIR. In response to Carlene's letter, Dennis exhaustively explained the incident cited by Carlene. "I have to make one thing clear," the Zaido lead star told Ricky.
ADVERTISEMENT - CONTINUE READING BELOW
"Before I went to Japan last month to shoot for SiS, I gave Carlene P20,000 for Calix. It was when I came back that I gave the ampaw, but I didn't say that it was all the amount [P5, 000] I was willing to give as monthly sustento. I told Carlene that while we were negotiating for the right [reasonable] amount, I would be giving money for Calix's needs. It's unfair naman na pinalalabas akong kuripot sa anak," lamented Dennis.
AUNT TO THE RESCUE. In an emotional battle that is starting to spill outside the confines of their respective families, Dennis's aunt defended her nephew's character against Carlene's wrath and the potential backlash that is threatening to tarnish the actor's image. Interestingly, the letter gives a hint on the real status—one that can only be described as shaky—of the pair's relationship prior to the pregnancy
Sending an email to Ricky Lo, Dennis's aunt, who requested anonymity, wrote:
Dear Ricky,

I am sharing the side of Dennis. He really does not want his family to join in the feud in order not to earn the ire of Carlene and all the more make her stop Dennis from seeing his son. I am sharing what I know based on the talks that I had with my sister....

I believe that Carlene's getting pregnant was part of a scheme she has devised when she noticed that Dennis was not the same as he used to be. They had been together for five years but it was an off-and-on relationship. Whenever Dennis was into another relationship Carlene would make sugod [confront] like what happened to Angel Locsin, Rufa Mae Quinto and Cristine Reyes, and then make paawa...
ADVERTISEMENT - CONTINUE READING BELOW
Dennis' mother was really not for Carlene and she did not even want to talk to her whenever Carlene was around but was always polite to her in deference to Dennis. Carlene had the habit of staying almost every day in Dennis' room when he was still living with the family and didn't have a condo yet, and would come out only to eat without even trying to pay respects to Dennis' mother...

When Carlene got pregnant, Dennis and his parents were caught by surprise. However, when Dennis owned up to the child, they had no recourse but to accept the child as their grandchild. We suspected that it was Carlene who leaked to the press the birth of the child and the date of their arrival from the US. She and the child were frequently visited by Dennis and everytime Dennis would give whatever they needed. He paid for the yaya's salary and shouldered other expenses. Carlene was given a laptop by Dennis when she asked for it. Carlene's dog has a yaya, too...
It was after the controversy involving Cristine Reyes broke out did Carlene begin asking for a P50,000 sustento. Lately, she raised the amount to P60,000. Dennis asked if she could lower the amount to P40,000 but she did not agree. So Dennis asked some friends who have been supporting their children and according to them the amount is just too much, considering that the child is still a baby and he is not obliged to support Carlene because they are not married...
ADVERTISEMENT - CONTINUE READING BELOW
Dennis has grown very fond of the child but he has been very busy lately. But whenever he had time, he visited the child almost every day...
It is true that Dennis is helping his parents. Dennis' other sisters are now working, with stable and well-paying jobs; they don't depend on him...
I advise Carlene to work for the child and not depend only on Dennis. We have advised Dennis to open a trust fund for his child... In time, I hope that everything will be settled for the good of the child.