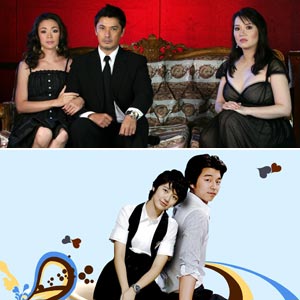 ---
The new shows of ABS-CBN and GMA-7 are doing very well basedon the latest overnight ratings conducted by AGB Nielsen.
Kris Aquino's new ABS-CBN primetime horror series, Patayin sa Sindak si Barbara, debuted last night, January 7, with an impressive 26.7percent clip, which is the highest among all ABS-CBN shows and No. 6 overall.
Meanwhile, the rating of GMA-7's new Koreanovela, CoffeePrince, has been going up since its debut on January 1. It posted its highestrating, so far, last Thursday (Jan. 3) with 29 percent, tied with La Vendetta atNo. 5.
Still, Marimar remains the No. 1 overall program, withKamandag a close second.
Last Thursday, January 3, Daisy Siete once again topped thedaytime race with 23.5 percent as Eat Bulaga! came in second with 21.4 percent.In third place is Deal or No Deal with 19.1 percent; followed by Whammy! (18.5percent), Takeshi's Castle (17.8 percent), Pasan Ko ang Daigdig (17.6), Wowowee(15.8 percent), Come Back Soon-Ae (15.5 percent), My Only Love (14.5 percent),and Game KNB? (14.1 percent).
In the primetime race, Marimar pulled in 42 percent whileKamandag had 41.5 percent. Zaido and 24 Oras finished third and fourth,respectively. As mentioned earlier, La Vendetta and Coffee Prince tied at No. 5.
Five Kapamilya shows occupied the sixth to tenth slots: TVPatrol World, Lastikman, Pinoy Big Brother Celebrity Edition 2, Maging Sino KaMan, and Ysabella.
It was pretty much the same the following day, January 4, asDaisy Siete and Marimar once again ruled the daytime and primetime slots,respectively.
The only noticeable change was the inclusion of GMA-7'slongest-running gag show, Bubble Gang, in the Top 10 with its 20.4 percent clip;causing Maging Sino Ka Man's drop in the winning circle.
ADVERTISEMENT - CONTINUE READING BELOW
Without Daisy Siete and other soaps as competitions, EatBulaga! took the No. 1 spot last Saturday, January 5, with an impressive 24.1percent clip.
Coming in second was Manny Pacquiao's Pinoy Records with17.1 percent, while Cinema FPJ and Takeshi's Castle grabbed the third andfourth spots, respectively.
ABS-CBN's noontime show, Wowowee, took the No. 5 slot with14.3 percent; followed by StarTalk (12.7 percent), Wish Ko Lang (12.5 percent),Entertainment Live (11.3 percent), and Game KNB? (9.4 percent).
The Big Night of Pinoy Big Brother Celebrity Edition 2 held atthe Big Dome was the second-highest rated primetime show with 32.3 percent,just behind Bitoy's Funniest Videos' 32.5.
After trailing behind Showbiz Central for a few weeks now,The Buzz finally regained, not only the upperhand but also the No. 1 position last Sunday, Jan. 6. The Buzz posted a 16.8 percent rating versusShowbiz Central's 11.9 percent, which is only good for No. 5.
SOP and ASAP '08 once again had a neck-and-neck race withSOP taking a very slim lead with 14.9 percent against ASAP's 14.8 percent.
Bong Revilla's Kap's Amazing Stories wasthe No. 1 Sunday primetime show with 25.6 percent.
Also in the Top 5 were Tok! Tok! Tok! (23.4 percent), Mel& Joey (23.3 percent), Rated K (22.4 percent), and All Star K (20.1percent).
Patayin sa Sindak si Barbara shook the ratings game a littlebit last night, Jan. 7, when it premiered at No. 6 with 26. 7 percent, behindfive Kapuso shows (Marimar, Kamandag, 24 Oras, Zaido, and La Vendetta).
Completing the Top 10 primetime programs last night were TVPatrol World, Coffee Prince, Lastikman, and Maging Sino Ka Man.
In the daytime race, Whammy! grabbed the No. 1 slot with 20percent while Daisy Siete slipped to No. 2, tied with Eat Bulaga, withidentical 19.1 percent.
ADVERTISEMENT - CONTINUE READING BELOW
Here are the Top 10 daytime and primetime programs fromJanuary 3 to 7 based on the overnight ratings conducted by AGB Nielsen among MegaManila households.
January 3 (Thursday)
Daytime:
Daisy Siete (GMA-7) - 23.5%
Eat Bulaga! (GMA-7) - 21.4%
Kapamilya, Deal Or No Deal (ABS-CBN) - 19.1%
Whammy! Push Your Luck (GMA-7) - 18.5%
Takeshi's Castle (GMA-7) - 17.8%
Pasan Ko Ang Daigdig (GMA-7) - 17.6%
Wowowee (ABS-CBN) - 15.8%
Come Back Soon-Ae (GMA-7) - 15.5%
My Only Love (GMA-7) - 14.5%
Pilipinas, Game KNB? (ABS-CBN) - 14.1%
Primetime:
Marimar (GMA-7) - 42%
Kamandag (GMA-7) - 41.5%
Zaido (GMA-7) - 36.7%
24 Oras (GMA-7) - 34.8%
La Vendetta (GMA-7) / Coffee Prince (GMA-7) - 29%
TV Patrol World (ABS-CBN) - 25.6%
Lastikman (ABS-CBN) - 21.8%
Pinoy Big Brother Celebrity Edition (ABS-CBN) - 21%
Maging Sino Ka Man (ABS-CBN) - 19.9%
Ysabella (ABS-CBN) - 17.6%
January 4 (Friday)
Daytime:
Daisy Siete (GMA-7) - 23.4%
Eat Bulaga! (GMA-7) - 22%
Pasan Ko Ang Daigdig (GMA-7) - 18.9%
Whammy! Push Your Luck (GMA-7) - 16%
Wowowee (ABS-CBN) - 15.8%
Takeshi's Castle (GMA-7) - 15.5%
My Only Love (GMA-7) - 15.4%
Kapamilya, Deal Or No Deal (ABS-CBN) - 15.2%
Pilipinas, Game KNB? (ABS-CBN) - 15%
Come Back Soon-Ae (GMA-7) - 13.7%
Primetime:
Marimar (GMA-7) - 37.5%
Kamandag (GMA-7) - 35.6%
Zaido (GMA-7) - 31.4%
24 Oras (GMA-7) - 30.9%
La Vendetta (GMA-7) - 28.1%
Coffee Prince (GMA-7) - 27.4%
Pinoy Big Brother Celebrity Edition (ABS-CBN) - 23%
TV Patrol World (ABS-CBN) - 22%
Lastikman (ABS-CBN) - 21.5%
Bubble Gang (GMA-7) - 20.4%
January 5 (Saturday)
Daytime:
Eat Bulaga! (GMA-7) - 24.1%
Pinoy Records (GMA-7) - 17.1%
Cinema FPJ: Da King On ABS-CBN (ABS-CBN) - 16.1%
Takeshi's Castle (GMA-7) - 16%
Wowowee (ABS-CBN) - 14.3%
StarTalk (GMA-7) - 12.7%
Wish Ko Lang (GMA-7) - 12.5%
Entertainment Live (ABS-CBN) - 11.3%
Pilipinas, Game KNB? (ABS-CBN) - 9.4%
Primetime:
Bitoy's Funniest Videos (GMA-7) - 32.5
Pinoy Big Brother Celebrity Edition: The Big Night (ABS-CBN) - 32.3%
Kapuso Mo, Jessica Soho (GMA-7) - 30.1%
Kakasa Ka Ba Sa Grade 5? (GMA-7) - 27.8%
XXX (ABS-CBN) - 25.7%
TV Patrol World (ABS-CBN) - 20.9%
1 vs. 100 (ABS-CBN) - 20.8%
Imbestigador (GMA-7) - 18.1%
Nuts Entertainment (GMA-7) - 12.1%
Sine Totoo (GMA-7) - 10.2%
January 6 (Sunday)
Daytime:
The Buzz (ABS-CBN) - 16.8%
SOP (GMA-7) - 14.9%
ASAP '08 (ABS-CBN) - 14.8%
Takeshi's Castle (GMA-7) - 12.7%
Showbiz Central (GMA-7) - 11.9%
Boys Nxt Door (GMA-7) - 11.6%
Love Spell Presents Cindy-Rella (ABS-CBN) - 10.4%
Your Song (ABS-CBN) - 9.4%
Ka Pete Na! Totally Outrageous Behavior (ABS-CBN) - 7.7%
Primetime:
Kap's Amazing Stories (GMA-7) - 25.6%
Tok! Tok! Tok! Isang Milyon Pasok (GMA-7) - 23.4%
Mel & Joey (GMA-7) - 23.3%
Rated K (ABS-CBN) - 22.4%
All Star K (GMA-7) - 20.1%
Goin' Bulilit (ABS-CBN) - 18.6%
TV Patrol World (ABS-CBN) - 17.3%
Ful Haus (GMA-7) - 16.5%
Sharon (ABS-CBN) - 15.4%
SNBO (GMA-7) - 14.4%
January 7 (Monday)
Daytime:
Whammy! Push Your Luck (GMA-7) - 20%
Eat Bulaga! (GMA-7) / Daisy Siete (GMA-7) - 19.1%
Pasan Ko Ang Daigdig (GMA-7) - 17.9%
My Only Love (GMA-7) - 15.1%
Kapamilya, Deal Or No Deal (ABS-CBN) - 14.4%
Come Back Soon-Ae (GMA-7) - 14.1%
Takeshi's Castle (GMA-7) - 14%
Pilipinas, Game KNB? (ABS-CBN) - 13.8%
Wowowee (ABS-CBN) - 13.5%
Pinoy Movie Hits (ABS-CBN) - 10.9%
Primetime:
Marimar (GMA-7) - 38%
Kamandag (GMA-7) - 35.5%
24 Oras (GMA-7) - 32.7%
Zaido (GMA-7) - 31%
La Vendetta (GMA-7) - 28.3%
Patayin Sa Sindak Si Barbara (ABS-CBN) - 26.7%
TV Patrol World (ABS-CBN) - 26%
Coffee Prince (GMA-7) - 24.7%
Lastikman (ABS-CBN) - 24.6%
Maging Sino Ka Man (ABS-CBN) - 19.4%
Source: AGB Nielsen Philippines