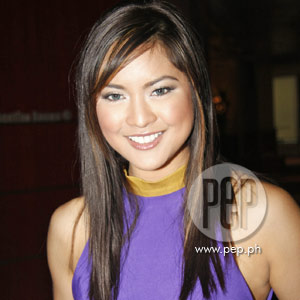 ---

"It's completely untrue," says Riza Santos about rumorssaying that she almost filed a case of oral defamation against fellow PinoyBig Brother celebrity housemate Mariel Rodriguez. "My parents would notsue. I would not sue Ate Mariel."
The beauty title holder told PEP (PhilippineEntertainment Portal) that she still considers Mariel as a friend.
Riza narrated the events that happened that Friday night,December 28, during the stag party of Ruben Gonzaga who was about to get marriedthe next day.
"I went inside the house to change my shirt kasi mainit salabas." Whila Riza was inside the PBB house, Mariel was left outside talkingwith Ethel Booba. The Ultimate Pasaway admitted that she was smitten by WillDeveughn, who is being linked to Riza. In response to Ethel's affection towardsWill, Mariel cursed Riza, saying, "Pu--ng inang virgin na 'to [Riza]. Pu__ngina talaga! Pu_i siya. Ki_i ng ina niya!"
Riza revealed: "Totoo lang, hindi ko pinanood yung video kasi alam ko nakung anong sinabi niya. At that point, I felt I didn't need to see it. I lookedit up at You Tube and I saw everything. I saw the comments. I read what shesaid.
"There is no point in dwelling over it and thinking aboutit kasi she approached me naman and I accepted [her apology]. We've moved onfrom there.
"She said, 'Sorry, alam mo naman we're friends.' Alam ko naman kaibigan kami so for me, it's not an issue," said Riza sincerely.
What can she say about the fact that Mariel made a face whenshe read the slip of paper indicating that Riza was the Second Big Placer of PinoyBig Brother Celebrity Edition 2.
ADVERTISEMENT - CONTINUE READING BELOW
"Hindi naman nag-iba yung tingin ko kay Ate Mariel. You caninterpret it in different ways, pero I haven't really talked to her about thatparticular issue. But I haven't changed my opinion about Ate Mariel. I'd stilltreat her the same way and I still consider her as my friend. I'm not going totreat her differently."
Don't you think Mariel should be held accountable for heractions? "Sa tingin ko, she's old enough to know the things she should say, howshe should act. She's at that age when she knows the difference between rightand wrong. She's at an age when she can make a sound judgment of anong dapatniyang gawin," said Riza.
The 2006 Ms. Earth-Canada title holder also pointed out thatshe has signed a five-year, nine-picture contract with Viva Films. In theupcoming Robin Padilla-Ai-Ai delas Alas movie, Riza will have a role as abalikbayan.