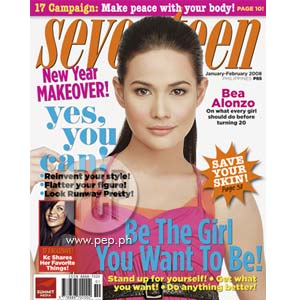 ---

As one ofthe most successful young actresses in showbiz today, Bea Alonzo is a householdname. Her loveteam with John Lloyd Cruz has come a long way, as they now have ahuge following both on the small screen—thanks to their soap opera MagingSino Ka Man, Book 2—and the silver screen with their latestblockbuster One More Chance.
With so many soap operas and movies to hername, it becomes easy to forget that Bea is only 20 years old and shewould probably be in college had showbiz not beckoned.
This January, Bea graces the coverof Seventeen magazine, the ultimate college life guide, and shares herlife lessons with young girls her age. In her own words, here are some of thelessons life has taught her before she turned 20:
Value family moments. "When I was still living with myfolks, I'd go to my brother's room whenever I had a bad day—dun na akomatutulog. Now that I live alone, I miss them so much. Learn to appreciate thesimplest things you do with your family, [and] create 'moments' with thembefore you start living your own life."
Your parents work hard to pay for yourschooling; don't waste it. "There's something far worse than being pressured to do well in yourstudies: not being in school at all. Ngayon ko lang na-appreciate yungeducation ko dahil hindi na ako nag-aaral.And now that I'm working, Irealize how hard it is to earn the money your parents spend on you."
Between a rich and happy future,always choose the latter. "Know what you really want to do, and not just because you'll get richby doing it or because your parents told you to. There's no point in reaching agoal—like making lots of money—if it doesn't make you happy. It's not worththe sacrifices and the hard work you have to put into it."
ADVERTISEMENT - CONTINUE READING BELOW
Bea shares more in theJanuary-February issue of Seventeen magazine, which is packed with tipson how to welcome the new year with a new and better You. Seventeen magazineis available in all leading bookstores and magazine stands at P85 per copy.