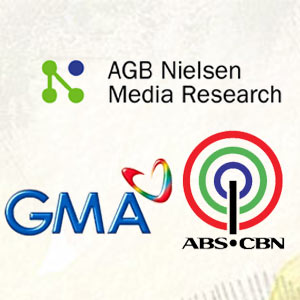 ---
The rating manipulations issue between ABS-CBN, GMA-7, and AGB Nielsen has dragged the whole country in speculation and doubt over the past few days.
Informants started popping out of nowhere with loads ofeyewitness accounts. Their claim has been that GMA-7 hired them to locate AGB Nielsen's "metered households" in Bacolod, Cebu, Davao, and Iloilo.
All these persons wereinterviewed by ABS-CBN about their stories behind the ratingmanipulations. GMA-7 rebuffed these claims, saying that the"informants' statements were dubious and inconsistent." GMA-7 said that theirdesire remains the same: to learn the truth in court rather than be subjected toABS-CBN's "trial by publicity."
Now, with lawsuits filed and statements aired, another report surfaces.
THE AGB REPORT. GMA-7 has revealed that—according to AGB Nielsen's Data Review on the panel intervention issue releasedyesterday, January 15, 2008—ABS-CBN also contacted metered homes during theirpromotional activities in the Visayas and Mindanao regions.
The AGB reportshowed that ABS-CBN also entered panel homes to "check signal clarity in exchangefor gift offering." These audit findings from AGB Nielsen also revealed "ABS-CBN'spromotional activities, including 300 pesos and groceries every month inexchange for loyal viewing of ABS-CBN shows."
GMA-7 said in a statement issued late this afternoon, "ABS-CBN never mentioned in their statements and news reports that they, too,were conducting field promotional and other activities in the regions which,based on the AGB report, also exposed some panel homes to ABS-CBN. Instead, ABS-CBN just continued to broadcast erroneous and malicious allegations on themanipulation of ratings in the regions."
The same AGB report mentioned that "a panel homemember was being persistently asked that the AGB Nielsen meter be showed tothem [ABS-CBN representative]. The panel home member refused."
ADVERTISEMENT - CONTINUE READING BELOW
AGB Nielsen said "they excluded the exposed panels from the official ratings data and viewing levels did not significantly change (after the exclusion of thesaid panels)."
"Channels' shares with respect to ABS-CBN, GMA, and other channelsremain after the comparison between the original and re-processed data wasdone," AGB said.
The report also said, "their coincidental surveyconfirmed that viewing trends and patterns for primetime and early eveningblocks were consistent with Panel data in relation to GMA-7, ABS-CBN, andoverall viewing levels."
"Expected drops in average minutesfor GMA and increases for ABS-CBN did not conform to actual observed averageviewing minutes after contacted homes have been excluded," added AGB in their report.