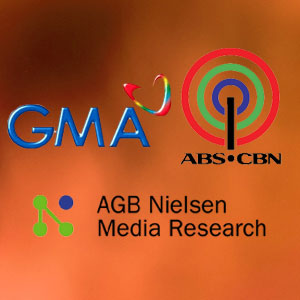 ---
The GMA-7 network challenged ABS-CBN's declaration that it was the first to call for a clean-up of the TV ratings system being implemented by AGB Nielsen Media Research-Philippines.
"There is absolutely no truth to ABS-CBN's claim that it was the first one who initiated the move to clean up the TV ratings system," said GMA-7 in a counter-statement e-mailed to PEP this morning.
For the nth time, GMA-7 stressed that even they are questioning the rating figures of their programs, particularly the discrepancy between cable and non-cable TV households.
It is an issue that continues to baffle GMA-7 management. "For about five years now, GMA Network has been complaining to AGB Nielsen why the ratings of GMA Network's programs are so low in cable TV households but so high in non-cable TV homes, a situation that does not obtain in ABS-CBN's programs."
BUSINESS TURNED PERSONAL. "It is important to note that the abnormal ratings behavior of GMA's programs in cable TV homes started only when GMA Network began to compete head-on with its rival station five years ago," added the GMA-7 statement.
It is of course common knowledge that ABS-CBN Chairman Gabby Lopez III also owns Sky Cable—an angle highlighted by GMA-7 in its theory regarding the issue:
"It is a fact that GMA Network's competitor owns and/or controls the dominant cable operators in the country. Thus, it is the one who has both the means and opportunity to know where the people meters are installed by AGB Nielsen among cable TV homes."
ADVERTISEMENT - CONTINUE READING BELOW
The Kapuso network contends that they've been questioning AGB Nielsen about this concern for years already. Still, and despite the incessant inquiry, the media research firm has not been able to pacify their lingering suspicions.
"Until now, AGB Nielsen has not provided a satisfactory explanation to the highly illogical, very low cable ratings of GMA programs as compared to the unusual and unexplainable very high cable ratings of ABS-CBN's programs."