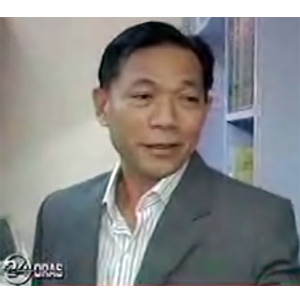 ---
Judge Samuel Gaerlan of Branch 92 of Quezon City Regional Trial Court (QC RTC) breaks off from GMA-7 and ABS-CBN libel casebecause his cousin is an employee of ABS-CBN's legal department.
GMA-7 was about to present its evidence and witnessesagainst ABS-CBN yesterday, January 17, only to find out that Judge Gaerlan had already inhibitedhimself from the case. Judge Gaerlan explained in an order that he had to breakoff from the case to avoid suspicion from both camps.
ABS-CBN was said to have asked the judge to inhibit, thoughGMA-7 claimed that there was no problem if Kapamilya network employees hadrelatives inside the court.
The judge's decision greatly affected GMA-7's casesince the delay caused a screeching halt to the case's progress. Now, GMA-7 wantsa TRO (Temporary Restraining Order) to stop ABS-CBN's alleged blatant remarks againstthem.
Atty. Gener Asuncion, legal counsel for GMA-7, comments on this: "We are asking for the issues of a restraining order to stopthese fabrications done by ABS-CBN. I don't know if they willcontinue to make those statements again on air."
ABS-CBN's lawyers refused to comment on this issue and alsodeclined to give statements about AGB's report regarding ABS-CBN andGMA-7's alleged promotional activities around the country. GMA-7 has made it clearthat their promotional activities are legitimate and are announced thru radioand print. GMA-7 also said that their most recent promo was approved by DTI (Departmentof Trade and Indusrty).
According to AGB's report,it stated that ABS-CBN handed out 300 pesos and groceries to panel homes inexchange for loyal viewing. ABS-CBN denied this by saying that they themselveswould conduct the investigation if AGB found any evidence.
ADVERTISEMENT - CONTINUE READING BELOW
ABS-CBN also claimedthat they were the first to ask for the truth concerning the ratings. However,GMA-7 contradicted this by saying, "There is absolutely no truth to ABS-CBN'sclaim that it was the first one who initiated the move to clean up the TVratings system. For five years now, GMA Network has been complaining to AGBNielsen why the ratings of GMA Network's programs are so low in cable TVhouseholds but so high in non-cable TV homes."
In addition, GMA-7 claimed that this issue never happened tothe Kapamilya network since they, in fact, own cable company operators. RikkiEscudero, head of GMA-& Reginal TV, explains, "Nangyari lang ang ganitong illogical disparity noong nagsimula nang lumaban ang GMA Network. It's also a fact that the Lopez group alsocontrols the dominant cable operators in the country and they also own ABS-CBNwhich is GMA's chief competitor."
GMA-7's complaint on AGB's questionable ratings system forthe past five years contradict the statements of ABS-CBNthat GMA-7 and AGB Nielsen connived to spike the ratings.
Atty. Dick Perez, VP for GMA-7 Legal Department, says thatthis is simply impossible.
"Paano nila sasabihin na magkakutsaba kami [GMA-7 and AGBNielsen] kung dinadala nga namin sila [AGB] sa NBI para ireklamo? Kami ay may suspetsa dahil may abnormal disparity sa cable ratings naito," says Atty. Perez.