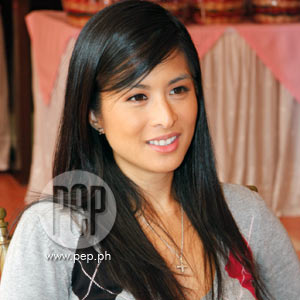 ---
Sexy actress Joyce Jimenez would rather not divulge the true status of her lovelife. The only hint she could give at this point is the fact that she's very much into the dating game.
"It's not that I don't want a commitment," countered Joyce over a cup of tea during the official launching of Private Joyce Intimate Collection partnership with Ever Bilena Cosmetics Inc., held last Tuesday, January 15, at Annabel's restaurant in Tomas Morato Ave., Quezon City.
Her mindset at this point when it comes to romance can be described simply as practical: "If it comes, it comes. If it doesn't, then it doesn't. I'm happy naman dating, at least naman, di ba? Better than nothing."
Letting her hair down, the pretty actress-turned-entrepreneur clarified though that she's only seeing one person at the moment, although she'd rather not call it "exclusive dating."
With an impish smile etched on her face, Joyce explained, "It's not exclusive dating... But I just don't date anyone else cause I haven't found anyone else that interest me, that I would actually want to date."
THE OLDER, THE BETTER. Joyce, who just came back from Boston, revealed that the guy she's currently seeing is much older than her. She said she prefers older rather than younger men.
"I need an older man," smiled Joyce. Realizing that her remark might be embellished once in print, she beamed hastily, "Not that old naman."
The guy is "non-showbiz" according to Joyce. Pressed for more clues, "He's an officer," she relented but refused to elaborate.
ADVERTISEMENT - CONTINUE READING BELOW
STILL WILLING TO GO SEXY. During the press conference, most of the people present could not help but notice Joyce's whistle-bait figure. In fact, she looks sexier now compared to the time when she was actively doing sexy movies.
The pictures in the promo kit show Joyce wearing her own line of lingerie and undergarments. (The special Private Joyce collection, designed specifically for Ever Bilena will only be available, as of the moment, through direct selling.)
"I've always been choosy naman," she revealed, pertaining to movie and television roles.
Not much has changed, confessed Joyce. Meaning, she's still fine with the idea of doing sexy roles just as long as she finds the story, script, and character interesting and really worth doing.
A couple of years wiser, Joyce divulged that she would want to do sexy yet mature roles.
"I think it's more challenging to do sexy roles when you're older kesa naman when you're younger," she said. "Kasi it's more of a mature role, e, unlike when I was, like you know, when you're playing the college [student]."
She was referring to Scorpio Nights 2—Joyce's launching film back in 1999, where she played an enigmatic college student experiencing sexual awakening.
Joyce doesn't mind taking the indie route. Again, just as long as she finds the story exciting and fresh, then why not?
"Kung meron," she confirmed with enthusiasm. "It's not naman about the money sometimes, di ba? Kung maganda 'yong role."