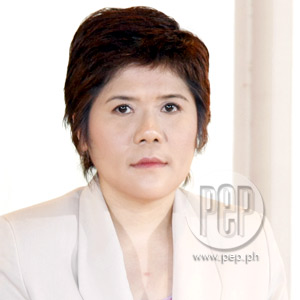 ---
Network giant ABS-CBN held a press conference yesterday afternoon, January 24, to clarify the matter being brought about by rival network GMA-7 about the disparity in ratings between cable and non-cable TV ratings. ABS-CBN also asked the Kapuso network to provide proof of their recent allegations.
Vivian Tin, Vice President for Research and Business Analysis of ABS-CBN, pointed out that the discrepancy is caused by TV reception problems. She said that the Kapamilya network continues to lead in the nationwide TV ratings, except in Mega Manila where the TV reception is blurry in some areas.
Tin explained that ABS-CBN operates on the lowest band.
"Channels 2 to 6 are called lowband channels. Kapag lowband ang channel, it's vulnerable to noise. It is noise that we couldn't pick up as humans but electronically, the TV sets pick up. Even just turning on and off lights, even the backfire of tricycles due to spark plug action, which is an electrical action, will cause the TV to become blurry."
The "noise" causes blurry reception in the fringe areas of Metro Manila. She added that urbanization and the higher consumption of electricity has caused "snowy" receptions on TV sets in the said areas. She also included provinces of Cavite, Laguna, Rizal, Bulacan, and Pampanga—all being serviced by the tower of ABS-CBN in Metro Manila—as also vulnerable to blurry reception.
"So, in the fringes where the signal is not as strong, the noise of electricity and telecommunication activities, and even rain and wind interferes in the lowband frequency. You can go to the provinces and see homes where there is "snowy" reception of ABS-CBN.
ADVERTISEMENT - CONTINUE READING BELOW
"So, in these areas, we will lose in terms of ratings. That's why you would always hear claims that another network is supposedly number one in Mega Manila and parts of Luzon. That's because we [ABS-CBN] have snowy reception," she said.
Tin also said that ABS-CBN has been working on home-signal improvement through the marketing campaign of Baron antennas.
"With lowband, you need to counter that with the correct antenna to be able to go above the noise. Not all antennas are designed to help out with the noise issue on the lowband channels. And the Baron antennas are specially designed to make all channels become clear," she explained
ABS-CBN has also augmented it's coverage of certain areas in Luzon by introducing UHF channels. For instance, the Kapamilya network is seen on Channel 34 in San Miguel and San Ildefonso, Bulacan; Channel 46 in San Fernando, Pampanga; and Channel 32 in Nueva Ecija and Tarlac.
"These are some of the pallatives we have put in to help those who want to watch ABS-CBN with clear reception," Tin said.
CABLE VS. NON-CABLE. Tin pointed out that the other network's complaints of interference have never prospered because these are "imagined."
"They're insinuating that it has something to do with the fact that we are affiliated with leading cable operating company, which is Sky Cable. You will notice that if you have cable connection, many channels become clear, including channels like ABC-5, NBN-4 and some channels that are not clear on free TV. They suddenly become clear when cable is made available. And Channel 2 is one of these channels that become clearer with cable. Cable takes away the vulnerability to noise. So, in a cable environment, all channels are clear," she explained.
ADVERTISEMENT - CONTINUE READING BELOW
Tin emphasized, "So, siyempre, in an environment that is patas, where everyone is clear, it is only the content that is the basis for the content of the viewing. So, that's why when it's cable, because it's a patas environment, our ratings tend to be higher. In a non-cable environment, where there are areas where we will have "snowy" reception, of course, some people would opt not to have a difficult time watching and will watch another channel instead, so our rating will be lower."
She said that ABS-CBN has tried not to answer the issue because of the technical matter involved and having to explain it in layman terms. It is a purely technical issue, thus making it a non-issue. The Kapamilya network finally decided to make a clarification to the public because GMA-7 continues to bring it up.
Tin again pointed out that the real issue is the corruption of panel homes by the AGB Nielsen Media Research.
"The issue we have brought to the public where we have witnesses who have testified to a systematic search and bribery of homes to change viewing habits. The cable versus non-cable has never prospered because there's nothing really behind this. Nothing malicious. Nothing anomalous, purely technical," she ended.