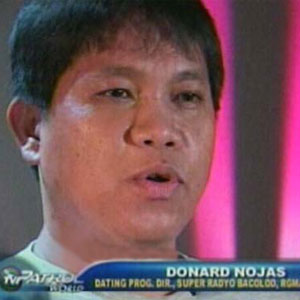 ---
The issue on the ratings anomaly has brought out another witness—Donard Duane L. Nojas, former program director and anchorman of Saksi Evening Edition in Super Radyo DYSB 1179kHz Radio Station Bacolod for RGMA Network Inc.
In an interview with ABS-CBN's TV Patrol World aired last night, January 24, Nojas gave his account of the alleged "special operations" conducted by RGMA to boost radio and TV ratings. He said that RGMA hired Toto Aliguin, one of ABS-CBN's informants, and others to scout for panel homes and bribe the homeowners to faithfully tune in to GMA-7 programs. Nojas claimed that they had the necessary budget needed to conduct the operations.
GMA-7 denied the above accusations in a statement sent to the media:
"GMA Network strongly denies the accusations made by Mr. Donard Duane L. Nojas that RGMA Bacolod hired ABS-CBN's informant Toto Aliguin or anyone to look for panel homes in Bacolod City and that it conducted special operations to increase its ratings. These accusations come from a disgruntled former employee of RGMA. Nojas, a former Program Director of RGMA-AM Bacolod, was terminated...for violation of company policies, serious misconduct, gross neglect of duty, and loss of confidence."
GMA-7 also said that Nojas was found guilty of sexual harassment during his stint as program director. In addition, he was also discovered to have anchored for a rival station, a clear breach of company policies.
UPDATE:
Miguel Enriquez, President of RGMA has sent in a statement concerning former program director Donard Nojas's account on the alleged ratings anomaly.
ADVERTISEMENT - CONTINUE READING BELOW
"Our radio stations continuously conduct promotional activities, all of which are announced heavily on air and are conducted openly. Several promotional activities are conducted in cooperation with some of the most prestigious advertisers and advertising agencies in the country.
RGMA will continue its legitimate radio promotional activities especially because they add to the enjoyment and listening pleasure of our listeners."