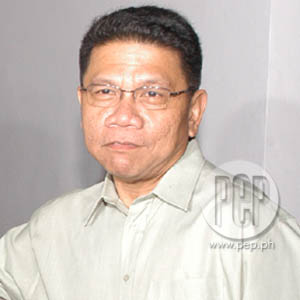 ---
Last night, ABS-CBN presented two new witnesses in connection with their allegation that GMA-7 is behind the ratings manipulation in Iloilo. Former RGMA employees Romie Diamanse and Francis Casumpang were interviewed by the Kapamilya network's primetime newscast, TV Patrol World, last night, February 1, and they claimed that RGMA President Miguel "Mike" Enriquez is involved in the alleged ratings fraud.
According to Diamanse, former program director and OIC-station manager of Campus Radio (an FM radio station owned and operated by GMA Network, Inc.) for RGMA in Iloilo, and Casumpang, also a former program director of Campus Radio, Mike and two other officers were calling the shots in an alleged attempt to rig TV and Radio ratings in Iloilo City. Their biggest claim: Enriquez was said to have given the order to cheat in a meeting.
Mike Enriquez describes the latest attempt by ABS-CBN to drag him into the issue of alleged TV rating manipulation as "shameless, malicious fiction delivered by tainted informers with an axe to grind."
Enriquez also vehemently denies the accusation of Diamanse and Casumpang. In an official statement sent to PEP (Philippine Entertainment Portal) last night, right after the statements of the two witnesses were aired on TV Patrol, Enriquez said, "I would like to reiterate GMA Network's stand that it has never conducted any special operation to manipulate TV and Radio ratings in its favor, I [also] vehemently deny presiding in any meeting regarding ratings manipulation and/or special operations in Iloilo or anywhere else."
GMA-7 Network backed up the statement of Enriquez, and labeled TV Patrol's report as "one-sided" because it failed to mention that both Diamanse and Casumpang left Radio GMA Iloilo "under a cloud."
ADVERTISEMENT - CONTINUE READING BELOW
According to GMA Network, Diamanse, who used to be the program director of Radio GMA Iloilo, resigned in 2006. Radio GMA Management accepted his resignation because he was regarded as ineffective in his duties.
Casumpang, who was also a former program director of Radio GMA Iloilo, resigned in 2003 after he was discovered to have pocketed advertising payments meant for Radio GMA Iloilo. GMA Network said that the embezzlement was validated by the advertisers themselves. In a signed letter, Calumpang admitted that he would accept advertising payments, but would not remit it to the office.
GMA Network also divulged that Casumpang now works for ABS-CBN as a DJ for their MOR Radio Station in Iloilo.
Enriquez expressed his disappointment at this the latest attack of ABS-CBN to discredit GMA Network in its running campaign. He said: "These allegations are calculated and orchestrated to besmirch the reputation of broadcasters like me, and are an insult to the intelligence of the millions of viewers who placed their trust in us."
Likewise, GMA Network stressed that ABS-CBN should have done what responsible broadcasters and journalists do: check and double check sources before placing them on the air.
One ABS-CBN informer, ex-Radio GMA Bacolod Program Director Donard Nojas, was allegedly fired for sexual harassment, going AWOL (Absence Without Leave), and accepting a job in a competing radio station while working for Radio GMA.
Another ABS-CBN informer, ex-Radio GMA Bacolod Station Manager Fred Alijaga, reportedly resigned due to incompetence. GMA-7 also said he lied about his real age.
ADVERTISEMENT - CONTINUE READING BELOW
Radio GMA Bacolod's AM Station was closed down last year to streamline the operations. GMA Network also said that it has no originating TV station in Bacolod City.
In another official statement, GMA Network said: "ABS-CBN, invoking press freedom, has used this opportunity to launch a trial by publicity against GMA Network. Despite appeals from advertisers and viewers to allow the matter to be resolved in court as it should be, ABS-CBN continues to use its programs to broadcast the dubious claims of mercenaries and people who have axes to grind against Radio GMA and GMA Network. Consequently, GMA Network has been forced to defend itself, also on the air."
GMA-7 had filed a P12-million libel suit against ABS-CBN reporters and officials.