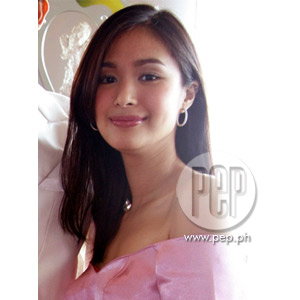 ---
Turning 23 years old this coming February 14, HeartEvangelista seems to have become more mature with regards to her decisions in lifeand in her career.
During a conversation with the press after the media junketfor the Sunday afternoon show Your Song: Muntik na Kitang Minahal at the9501 restaurant in ABS-CBN compound last January 29, Heart said that she is notopen to play any type of roles in television as well as in movies.
"I do have parang mga preferences, like I choose certainroles lang," said Heart. "Before anything else, I'm surepeople are gonna ask me, 'Why? What for? You did it in Panday, you did it in ganyan...' I didn't do a love scene in Panday, butI did do a kissing scene.
"At that time, it's different because I was rebelling withmy family. I just wanted to do all thewrong things, you know. Because Iwanted their attention. I was so madwith the world," she explained.
ADVERTISEMENT - CONTINUE READING BELOW
The young actress clarified that she is aware of the consequencesof her decision. She said, "Now kasiit's different and I don't wanna do a kissing scene, I don't want to do a bedscene. I mean, puwedeng suggested,ganyan, that's fine. Hindi namanpuwedeng talagang wala, di ba, parang ano naman 'to? It's okay na suggested."
Heart believes that there are other actresses who are morewilling to do the job. Sheexplained, "Like what I've said in the other interviews, there are so manygorgeous women na they're willing to do everything. Now, why would they... Parang it's hard to tailor, you know, acertain show for me. So I'm justwaiting for it. I'll just let them alldo everything first and then, if there's a nice role for me, then that's it."
When asked why she made such decision for her career, Heartanswered, "First and foremost, now that my family and I are together, parang forme, yeah, they don't want me to do it. And, of course, I have to consider ngamy family."
ADVERTISEMENT - CONTINUE READING BELOW
After more than a year of misunderstanding,Heart finally reconciled with her father, restaurant magnate ReynaldoOngpauco, last September.
FROM STAR MAGIC TO GENESIS. After deciding not torenew her contract with Star Magic (formerly known as ABS-CBN Talent Center),Heart and boyfriend Jericho Rosales signed a contract with Manila GenesisEntertainment, Inc., headed by Angeli Pangilinan-Valenciano, to manage their career. In a TV interview, Heart said thather decision to move to Genesis was not just to overhaul her career, but alsofor her personal life.
Her transfer resulted in a little misunderstanding with StarMagic's head Mr. Johnny Manahan. However, Heart clarified during the interview that she and Mr. Manahanhave already patched things up.
She said, "Whenever I see Mr. [Johnny Manahan], I've so many things that I wanted to tellhim because I was so young then, you know. I just wanna make up for certain things. And I miss them, I miss them all, you know."
ADVERTISEMENT - CONTINUE READING BELOW
Heart also said that she never thought of the transfer as awrong decision for her career. "I don'tthink it was wrong [to move to Genesis], but I don't think it was right that Ileft Talent Center," she said.
She added, "Everything was like leaving Talent Center andsiyempre when you're not in Talent Center, which is... really parang sila yungpriority ng [ABS-CBN]. You know, youdon't get the projects right away. WithGenesis, you really have to work it out. You know, you have to work things out, you have to discuss things."
The young actress also took the decision as a turning pointin her life as a whole, "But in a way, at that point in my life, [it] wasn'tlike I didn't know what to do. So evenif you say that it was wrong that I did this, it was right that I did this,whatever... I'm just glad that it all happened, wrong or right, because I don'tknow who I would have been if I was the same person before."
ADVERTISEMENT - CONTINUE READING BELOW
Nonetheless, Heart does recognize theefforts of Star Magic for her career. She said, "[Talent Center] really treated me very well. They really made things for me, they reallydid. That's why I understand whathappened before. I mean, even if yousaid that I was rebelling, there was a little bit of justification there. What I did, I should have thought ofit. But then again, just like what I'vesaid, it all worked for the best."