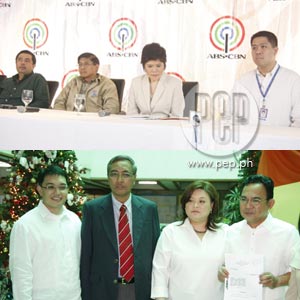 ---
ABS-CBN questions the Temporary Restraining Order (TRO) issued by the Quezon City Regional Trial Court Branch 95, prohibiting them from issuing statements related to the ratings manipulation controversy.
The TRO, issued by presiding Judge Henri Jean Paul Inting, grants GMA-7's request to ground any efforts by the Lopez-owned network to address the issue through television and radio—the two media at their immediate disposal.
According to the complaint filed by the Kapuso network, issuing announcements accusing GMA-7 of manipulating the ratings data are more than enough to impress the public that they are guilty of the accusation, even though the case is already under the court's jurisdiction. GMA-7 is concerned about being unfairly subjected to trial by publicity.
ABS-CBN, however, questioned the court's decision, arguing for public interest and the media's responsibility to expose corruption, among other assertions:
"Corruption is a matter of public interest, regardless of where it is found," argued ABS-CBN in a statement forwarded to PEP (Philippine Entertainment Portal) this afternoon.
ADVERTISEMENT - CONTINUE READING BELOW
"Thus, whether it be in the executive, legislative, or judicial branches of government, or even the private sector, it is the responsibility of media to expose corruption. All who are liable must be held accountable."
"The temporary restraining order prohibiting news reports that mention GMA Network, Inc. as the party behind the manipulation of television and radio ratings is a prior restraint that violates ABS-CBN's constitutionally-guaranteed freedoms of speech and of the press.
"It grants GMA Network a virtual immunity from accusation. No person or entity has ever enjoyed such a privilege, not even the highest public officers of the land. It is a clear attempt to cover up and suppress information on the ratings manipulation issue.
ADVERTISEMENT - CONTINUE READING BELOW
"ABS-CBN further maintains that continued news reporting on GMA Network's involvement in connection with the ratings manipulation will not deprive it of a fair trial in as much as the issue pending before the court is the accuracy of the ABS-CBN news report on AGB General Manager Maya Reforma's disclosure in her interview and affidavit submitted in court, and not the culpability of GMA Network."
The statement ends: "ABS-CBN will take legal action to reverse and set aside the temporary restraining order."