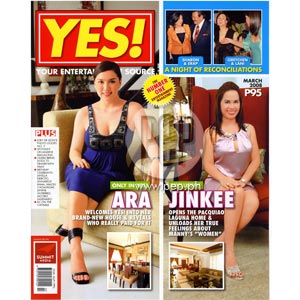 ---
Ara Mina and Jinkee Pacquiao—two women associated with Pinoy ring icon Manny Pacquiao—grace the pages of YES! magazine's March 2008 issue.
Opening not just the gates of their lavish homes, Ara and Jinky also poured their hearts out, once and for all answering all the intrigues bombarding their personal lives.
BLOOD, SWEAT AND TEARS. "He has nothing to do with my house!" Ara exclaimed agitatedly.
She was referring to the nagging rumor that Manny Pacquiao himself purchased her new house inside a posh village. Manny also allegedly presented Ara with a brand new luxury vehicle. Both rumors are totally baseless and untrue, protested the sexy actress.
"Itong bahay na 'to? That's my loan! Fifteen years to pay!" emphasized tersely.
In the midst of all the rumors and worsening speculations that followed Ara since she got linked with Manny, the bedimpled actress tried her best to appear composed. It also didn't help that she and Manny were doing the film Anak ng Kumander at the time.
ADVERTISEMENT - CONTINUE READING BELOW
Holding nothing back, Ara recounted to YES! how she first met Manny, Manny's suspected longstanding fascination with her as told by some people close to the boxing champ, their kissing scene in Anak ng Kumander which took nine takes, and the alleged confrontation scene between her and Jinkee Pacquiao.
Ara also revealed some juicy details about her past with actors Jomari Yllana and Polo Ravales.
THE WIFE HITS BACK. Sharing Manny's success in and outside the ring is, of course, his wife of eight years, Jinkee Pacquiao. But Jinkee, unfortunately, also has to deal with all the intrigues hounding her celebrity husband.
"Minsan iniisip ng mga tao may pera ka, happy ka," said Jinkee. "Hindi naman ganoon, e. Mas maraming problema. Sabi ko nga, 'Mas gusto ko pa 'yong simpleng buhay kaysa ganito."
For a woman who is often painted by the media as feisty, Jinkee surprisingly revealed that she is actually a timid version of her old self.
ADVERTISEMENT - CONTINUE READING BELOW
"Ewan ko, noong nag-asawa na ako, nahiya na ako. Hindi ko alam kung bakit," she confided.
Speaking for the first time about the drawbacks of being married to a world-renowned champ with a fat bank account, Jinkee revealed to YES! some vivid accounts of Manny's reported gambling and womanizing ways.
At one point during the interview, she recounted a familiar scene every time they're out on a party.
"Kunyari hindi ko alam, hindi ko alam 'yong ginagawa niya. Nagpe-pretend na lang ako na hindi ko sila [Manny and the girls] nakikita, para hindi ako masaktan. Minsan, 'pag nasa bar kami, aalis ako sandali, iiyak ako doon sa gilid, 'tapos balik na naman ako sa table. Text na naman ako kunyari."
But that revelation is definitely moderate compared to the other disclosures made by Jinkee. Indeed, being married to the Pambansang Kamaois not a walk in the park after all.
Get the March 2008 issue of YES! magazine in leading bookstores and magazine stands nationwide.
ADVERTISEMENT - CONTINUE READING BELOW