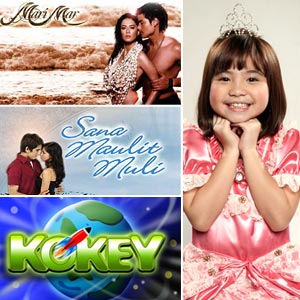 ---
Despite the influx of fantaseryes, Filipino viewers prefer romance-themed programs.
According to a report released by AGB Nielsen Media Research, women whose ages range from 20 to 34 were into television dramas last year. October to December showed a noticeable increase in numbers as showed by the 15.5 percent tally. Prior to the said period, January to March registered 13.9 percent.
The showing of a handful of soaps during the tail-end of the year triggered the jump in numbers. Undoubtedly, 2007's biggest TV success story was GMA-7's Marimar. The local version of the popular Mexican telenovela was also touted as the main catalyst on the sudden shift of viewing trends.
Marimar's strong showing achieved an unprecedented feat—it became the first GMA-7 primetime soap to notch the top spot consistently in AGB Nielsen's National Urban Television Audience Measurement or NUTAM.
ABS-CBN DOMINATES NUTAM. But Marimar was the only bright spot for GMA-7 in terms of the nationwide survey. Its rival ABS-CBN still emerged as the King of the NUTAM study. For 2007, three ABS-CBN programs—Kokey, Princess Sarah and Sana Maulit Muli—raked in impressive ratings to solidify the Kapamilya Network's grip on the nationwide rating contest.
The figures clearly demonstrated ABS-CBN's dominance outside the Mega Manila area. For Urban Visayas, the Lopez-owned network posted a staggering 60 percent grade while GMA-7 accumulated only 26 percent. Urban Mindanao painted a similar story with ABS-CBN registering a commanding 66 percent as compared to GMA-7's 23 percent.
Leading by a slight margin, GMA-7 pulled one over ABS-CBN in Urban Luzon. Hanging on to a precarious lead, GMA-7 tallied 42 percent while ABS-CBN trailed with 40 percent.
As for viewing percentages, a national daily reported that Urban Mindanao came up with 550,000 average daily viewers, which if translated to percentage is 16.2 of 3.4 million. Urban Luzon and Urban Visayas bore identical percentage levels. According to the same report, both areas tallied 14.5 percent or 3.8 million and 725, 000 viewers.
ADVERTISEMENT - CONTINUE READING BELOW
MEGA MANILA IS KAPUSO'S TURF. Bludgeoned in the nationwide contest, GMA-7, however, continues to hold its own in the Mega Manila battle. Year 2007 saw GMA-7 amassing a 47 percent audience share while ABS-CBN registered 34 percent overall.