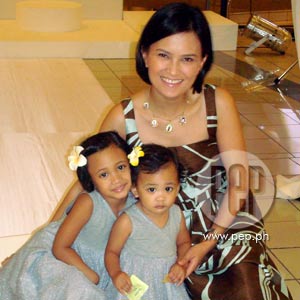 ---
When Daphne Oseña-Paez decided to resign from hosting the QTV-11 show Proudly Filipina, she did not expect to be caught in the never-ending network war.
There have been reports and blind items claiming that she was booted out because she was moonlighting or working for rival networks at the same time. It will be remembered that Daphne hosted Proudly Filipina on the sister network of GMA-7 while at the same time hosting Urban Zone on ABS-CBN.
After handing in her resignation, it was announced that she will be replaced by Charlene Gonzalez, who attended the presscon of the QTV-11 show yesterday, February 20.
Daphne told PEP (Philippine Entertainment Portal) that she wanted to clear the matter up by stating once and for all that she resigned from the show to focus on her kids, and not because she was forced to resign.
Here is the statement Daphne sent to PEP to explain her decision:
"I just wanted to explain the reason why I quit Proudly Filipina. It's actually nothing controversial at all. It's just that balancing the work of hosting two solo magazine shows was too difficult for me.
"I had been the host and editorial consultant of Urban Zone—airing in ABS-CBN Channel 2 on Sundays 11:45 pm thru Bayan Production—for over a year when QTV-11 offered me to be host of Proudly Filipina.
"I knew I'd have a lot on my plate. I have two small children—Sophia, 4, and Lily, 1—and I'm a very hands-on mom. In fact, when QTV-11 called, I was still breastfeeding Lily who was 11 months old then.
"But because the concept of the show was so good—profiles of inspiring and successful women—I accepted the job. It is a beautiful show and it proved to be a huge commercial success for QTV-11 who had initiated the move to attract an educated and more upscale female viewership.
ADVERTISEMENT - CONTINUE READING BELOW
"Last January 4, I handed in my resignation to Melo Esguerra, Production Unit Manager. I had given them one month to transition and find a new host. QTV-11 has announced their choice of the new host of Proudly Filipina, Charlene Gonzalez. I am so thrilled that she will be continuing and improving what we had initially done in PF. I'm confident that the staff will do wonders with the show.
"I am leaving Proudly Filipina and QTV-11 sadly, but in good faith. As you know I had worked for ABS-CBN News and Current Affairs for almost 10 years. My being asked to join QTV-11 with this flagship show is a source of pride for me.
"The staff and management (the whole GMA-7 network) is very kind, supportive and encouraging. I was told by Mr. Manuel Quiogue that the doors of QTV-11 will remain open to me, should I be ready to come back and pursue another show of a less time-demanding format. And that is something I look forward to.
"In the meantime, I am still on TV on Channel 2 as host of Urban Zone. It is an independent production by Bayan Productions."