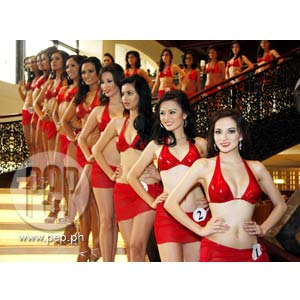 ---
The Bb. Pilipinas Beauty Pageant officially kicked off withthe press presentation of the 24 candidates who will vie for the threecrowns at stake: Bb. Pilipinas-World, Bb. Pilipinas-International, and Bb.Pilipinas-Universe. The presentation was held Thursday, February 21, at the Sunset Pavilion of Sofitel Philippine Plaza Manila located at theCCP Complex, Roxas Blvd., Pasay City.
Looking all gorgeous and sexy in their red-metallicswimsuits provided by Cumbia at the Gateway, the latest batch of officialcandidates is as promising as ever—with law students, CPAs, medicalprofessionals, teachers, and even an SK chairman in the roster.
This year's candidates are: 1—Eizza Rancesca Lim; 2—Patricia Fernandez; 3—Toni Alyessa Hipolito;4—Karla Paula Henry; 5—Ma. Kristelle Lazaro; 6—Evangeline Mae Castillo;7—Jenniffer Barrientos; 8—Danielle Castaño;
9—Kathleen Phyllis Guerrero; 10—Arvin Gail Ariola; 11—GianniMichelle Laudato; 12—Jaysel Arrozal; 13—Tabetha Jo Frick; 14—KarenGolar; 15—Janina San Miguel; 16—Margarita Gutierrez;
17—Lady Lou Garidan; 18—Elizabeth Jacqueline Nacuspag; 19—PatriciaFry Francisco; 20—Roxanne Tadique; 21—Karla Kristina Garcia; 22—Ma.Anne Labung; 23—Agatha Fontanilla; and 24—Rizza Liza Catigan.
Dubbed as the most prestigiousbeauty pageant in the Philippines, the Bininibing Pilipinas beauty pageant—started in1964 by former Miss Columbia and the very first Miss International StellaMarquez-Araneta—has produced two Miss Universe winners (Gloria Diaz in 1969 and Maria Margarita Moran in 1973) and three Miss International winners (Aurora Pijuanin 1970, Melanie Marquez in 1979, and Precious Lara Quigaman in 2005).
However, ithas yet to claim a Miss World crown, coming only second in 1973 (withEvangeline Pascual) and third in 1993 (with Ruffa Gutierrez). In 2005, CarleneAguilar was predicted to win because she was a heavy favorite among Internetusers. However, she only made it to the semifinals.
The annual Bb. Pilipinas BeautyPageant is the main source of funds of the Bb. Pilipinas Charities, Inc.,(BPCI) which helps indigent families, less fortunate members of Philippinesociety, and calamity-stricken victims. BPCI also contributed to the globaleffort of aiding tsunami victims when it made its donation during the MTV AsiaAid Event at the Araneta Center in 2005.
ADVERTISEMENT - CONTINUE READING BELOW
Paolo Bediones will host the coronation night of Binibining Pilipinas 2008 on March 8 at the AranetaColiseum with Raymond Gutierrez and 1994 Bb. Pilipinas-Universe winner CharleneGonzalez-Muhlach. This will be aired in GMA-7.