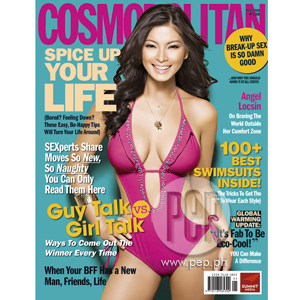 ---
Trust Angel Locsinto takeeveryone by surprise. Despite being a constant fixture on FHM's 100Sexiest Women in the World poll, Angel has chosen to pose in a swimsuit for thevery first time on the cover of Cosmopolitan magazine.
"First time ko'to," she told the Cosmo team during the shoot. "I hope it turns outwell. Inisip ko kasi, if gagawin ko 'to, it might as well be on Cosmo."After all, posing for Cosmo would mean reaching fun-fearless femaleslike herself.
Despite being one of the biggestnames in the industry today, Angel was surprisingly shy at the Cosmo covershoot, getting quite jittery over the sexy summer shoot and clowning aroundwith the Cosmo team just to loosen up. The jitters don't show in Angel'sconfident pose, as she says, "Lahat naman tayong mga babae, maybodyissues, di ba?But you should be happy with your body and comfortablein your own skin."
For Angel, being comfortable in yourown skin shows in the way you carry yourself. She encourages Cosmo girlseverywhere to make an effort to always look presentable and even dare to be kikay.
"Iba rin yung feeling 'pag nakaayos, kapag lalabas ka't alam mong okay angitsura mo, ready kang harapin kahit sino." Angel points out, "It's great to bein jeans and T-shirt, but it's also great to be in a dress."
Angel continues to strive towardsbecoming a better version of herself by branching out of her comfort zone.Since 2007, she has taken time off to study fashion in London, become afirst-time producer with the movie Angels, and is now learning how toplay the guitar. "You have to keep on learning," she says, "You shouldn't getcomplacent." Clearly, Angel has become a woman of substance.
Angelsizzles on the cover of
Cosmopolitan
's March issue, now available in allnews stands and magazine stores nationwide at P125 per copy.