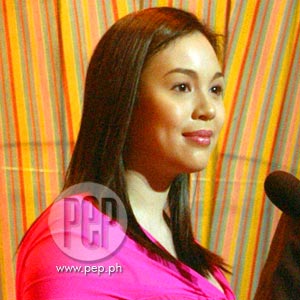 ---
Actress Claudine Barretto-Santiago was charged with libeland perjury before the Quezon City Prosecutor's Office yesterday morning, March11.
The complainant is a former personal assistant of Claudinenamed Nancy Jiji Cruz, who is a resident of No. 52 Q. Valencia Street, BarangayValencia, Quezon City. She claimed thatthe actress was lying in her complaint-affidavit for qualified theft, whichClaudine filed against her last January.
Cruz added in her complaint-affidavit that Claudine knewthat there were no stolen or missing items in her house at No. 18 Nova ScotiaStreet, Loyola Grand Villas, Quezon City, and that no witnessto the alleged theft was positively declared.
It was on December 27 that Claudine reported the alleged theftat the Quezon City Police District Station 9. She claimed that herformer personal assistant allegedly took P300,000 worth of jewelry and cash,including several checks and the birth certificate of her son, Rodrigo Santino.
The actress told the police that she learned about the incident onChristmas day, December 25, and suspected that it was Cruz who stole the items because sheallegedly left the house without asking permission.
ADVERTISEMENT - CONTINUE READING BELOW
On December 30, Margaret Barretto-Santiago, Claudine's realname, filed a case against Cruz before the Quezon City Prosecutor'sOffice. She claimed that Cruzstole P27,000 in cash, three sacks of Folded & Hung apparel, including shirts; aboxful of Secosana bags and wallets, Randy Ortiz gowns, south sea pearlearrings, which allegedly cost P500,000, and insurance papers.
On the other hand, according to a report published in People'sJournal today, March 12, Cruz denied these allegations and reasoned that itis highly improbable and physically impossible and for her to carry and bringout three sacks of clothes and shirts by herself, even with the assistance of herthree-year-old kid.
Cruz further argued that she sought permission from Claudineto leave on the morning of December 26, bringing only paper bags containingChristmas gifts. Cruz also stressedthat Claudine would not allow her to bring out her personal belongings, so shedid not bring any bag. Furthermore, theformer assistant said the security guards of the village inspected her thingsbefore she was allowed to leave.
ADVERTISEMENT - CONTINUE READING BELOW
In a separate complaint-affidavit, Cruz also chargedClaudine with violation of the Social Security Act of 1997. She claimed that Claudine allegedly failedto report her employment and services for coverage with Social Security System(SSS) after she was hired as a personal assistant and domestic helper in March 2001.
The former assistant stressed that she did not enjoy thebenefits of the social security law because Claudine failed to remither contributions to the SSS.
At press time, PEP (Philippine Entertainment Portal) is trying to contact Claudine for her side of the story.