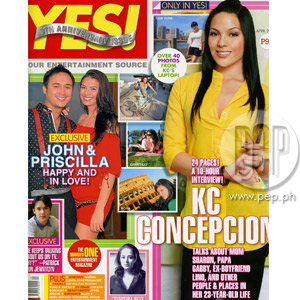 ---
For it's 8th Anniversary issue, YES! magazinegives its readers only the biggest and most-talked about celebrities in localentertainment.
Showbiz royalty KC Concepcion sits down again with the YES!staff, this time for a 10-hour interview that spawned a 24-page feature onthe Mega Daughter.
KC lets YES! in on her childhood memories, the hassles ofbeing the daughter of a Megastar, how she made it through herparents'separation, the hardships she experienced while studying abroad, herdecision to try show business, the man she was really "super compatible" with,and the man whom she admitted "not a day went by without seeing."
Although KC did not volunteer who these two are, YES! made a guess: Rico Blanco, ex-vocalist of Rivermaya, and young director Lino Cayetano.
Also in this issue is the controversial John Estrada and hisBrazilian girlfriend, former beauty queen Priscilla Meirelles. John andPriscilla tell YES! how they overcame the odds in their relationship and what theyplan for their future.
Patrick Garcia answers all of Jennylyn Mercado and hisdetractors' accusations. Jessa Zaragoza fires back anew at Rufa Mae Quinto,regarding the YES! tell-all interview.
These and more in the April issue of YES! magazine, nowavailable in leading bookstores and magazine stands nationwide.