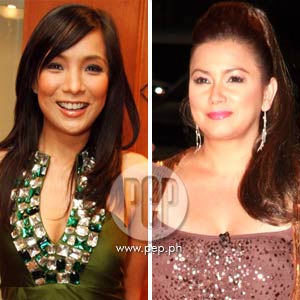 ---
Dina Bonnevie finally sat down with Pia Guanio, who is thecurrent girlfriend of Dina's ex-husband Vic Sotto, in a one-on-one interview on ShowbizCentral yesterday, March 30.
"Para bang napaka-big deal," commented Ms. D, popular nameof Dina, about the interview that was initially set last week. "Actually, ang hindi nila alam, matagal natayong nag-uusap."
While people thought that it was the first time the twoladies in Vic's life would see each other in public, Dina narrated that shealready met Pia when they both endorsed a certain product. However, during that time, Pia was not yetthe girlfriend of Vic. The two met again at the wedding of Danica, eldestchild of Dina and Vic, with PBA star Marc Pingris.
When asked by Pia how she felt that time, Dina answered, "When Isaw you, parang, 'Hi,' parang wala lang. Kasi for me, I have moved on. I'm just really happy for Vic and I am happy for you na sana ngatalagang maging kayo na at alagaan mo siya.
"I'm very happy that he found somebody as intelligent asyou, somebody as beautiful as you. Lahat na 'ata nasa 'yo, importante 'yon. Take care of him," Dina said to Pia.

CONSULTATION WITH VIC. Speaking of Vic, Pia asked Dina, whendoes she consult Vic with regards to their children?
Dina honestly answered, "Actually, Vic and I, we talk langkunwari about school. Example, sabihinko, 'I think you should encourage our children, you know, to go back to school,to take futher studies kasi importante 'yan. Si Oyo baka gusto niyang mag-college, ganyan-ganyan.' That's when I talk to him, I really consult him. Pero when it comes to mattersof the heart or love life, hindi ako nakikialam.
"Ngayon in the future, harinawa huwag namang mangyari, diba, magkaroon ng problema yung mga bata—si Marc at saka si Danica—ofcourse, I'm going to go, 'Vic tulungan naman natin yung mga bata.' In the same time, that I'm going to approachthe father of Marc.
ADVERTISEMENT - CONTINUE READING BELOW
"Pero I don't see it happening naman because, you know, they[Danica and Marc] love each other so much. They have avery good relationship, which is closely based on God as the center of theirrelationship. Masyado silang fixed sakanilang Bible reading and they really practice all the Christian beliefs naitinuturo sa church, so I don't see it happening naman."
ADVICE FOR MARRIED COUPLE. In the inteview, Dina wasalso asked about the worst thing that has ever happened in her life. And Dina thought that it was having amarriage that did not work out, as happened to her and Vic.
Dina said, "Now, hiwalay na kami, we'reannulled. But still my advice to peoplewho are married that plan to separate—it's not a good thing, try to work itout.
"Siguro that's the worst kasi simula noon, I had to be asingle parent, I raised my kids, I have to work even up to now. Parang, di ba, you're on your own?"
However, Dina thought of it as something not too negative. In fact, she also saw this as a challengethat helped her improve her life.
The dramatic actress said, "But the good side of it, I canalso say that it's the best thing that happened because out of that, I learnedto become very, very independent. Ilearned to be an entrepreneur at a very young age. I learned how to make money outside of show business. I learned the ropes of the corporate world.
"I began to even have a greater passion forlearning more than I had when I was in high school and college. Kasi I'm a very studious person but evenafter that, all the more I strove to improve myself.
"So, I can't say that it's the worst thing that has happenedto me because it's also the best thing that happened to me. Both ways, somehow it worked. And I believe that God always has a reason,you know, for things to happen to you. And maybe that is the purpose, otherwise we wouldn't have really met.
ADVERTISEMENT - CONTINUE READING BELOW
"And I'm really, really happy thathe's [Vic] with you now. Bagay kayo and Ireally hope na kayo na. Sana."
MOST IMPORTANT PEOPLE. Dina also expressed how she loves herchildren. In fact, the actress admittedthat her biggest fear was dying without seeing her children enjoying a stablelife.
She said, "Ang biggest fear ko is what kung may mangyari,'tapos I die way ahead of them. Parang,gusto kong mangyari yun when my kids are already married or stable, they havebusinesses outside of show business. They have a peaceful, stable, happy familylife.
"Values are intact the way I raise them to be goodchildren. And as what Vic would alwayssay, 'You don't learn everything you need to learn in school, but you'll learnit from you mother's knee. So, you'lllearn it at home. Yun lang ang fearko—sana kung mamatay man ako, yung okay na sila, matatag na lahat."
SURPRISE BIRTHDAY. Dina paused for a while and smiled whenPia asked her who was the last person who made her cry. "My Bebe...[at] my birthday," said Dinasmiling. She was referring to herboyfriend of three years, a Lebenese named Habib Shammas.
Dina recalled, "He planned it kasiparang right after that, nobody greeted me. Sabi ko, 'My gosh, wala man lang nakaalala ng birthday ko, wala man langbumati! 'Tapos, pagpasok ko, heto na siOyo dala-dala yung cake. So, siyempreparang naiyak din ako kasi parang I don't always get to see Oyo, e, kasi he'svery, very busy and he doesn't live with me.
"Kapag si Oyo nakikita ko, bihira lang kasi, parang meronakong joy na extra talaga kasi bihira kong makita ang anak kong lalaki. Kaya umiyak talaga ako, 'Kayo talaganag-connive kayo and you're all here? Everyone who is important in my life was there.'"
BABANGON AKO'T DUDURUGIN KITA. Dina said that she used to say this phrase to someone but nowit has changed and left everything to God.
ADVERTISEMENT - CONTINUE READING BELOW
The actress explained, "I learnedthat vengeance is not ours, it is God. Mayroon tayong isang Diyos na hindi natutulog, mayroon tayong isangPanginoon na pinapanood ang lahat ng ginagawa natin, maging tama man o magingmali. Para sa kanya, hindi niya sinasabi na, 'O, mali 'yan, o, tama 'yan.' Youhave your own free will to do everything as you please.
"But because He is a loving Father and a loving God, justlike a father para rin siyang child kapag nagkamali. Ganun din ang ating Ama pero nandoon din siya na malaki angpagmamahal Niya sa atin na madali siyang magpatawad—to bring us back to him andto take care of us."