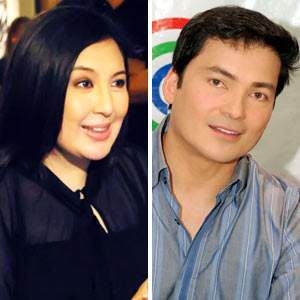 ---
Megastar Sharon Cuneta does not share ex-husband Gabby Concepcion's enthusiasm for a reunion movie.
Speaking to entertainment columnist Ricky Lo, Sharon expressed that working again with Gabby would simply be too much for their personal lives to take.
In an article published today, April 2, in the Philippine Star, Sharon reportedly confided to Ricky: "We have both grown up and matured, and I am sure that he knows as well as I do that nothing would be worth doing together if it means our lives—meaning our lives with our respective espouses and children—would be disrupted, used, subjected to intrigue and pushed to the limits and turned upside down."
Being a showbiz veteran, Sharon knows that if she agrees to do a project with Gabby, their past and present lives would surely be touched to elicit attention and publicity.
PERSONAL DECISION. The tandem of Sharon and Gabby is considered one of the most popular team-ups ever in the history of Philippine cinema and an enduring symbol of the '80s. The screen romance was later translated into real life when the two married in 1984. Unfortunately, the marriage did not last and it crumbled.
ADVERTISEMENT - CONTINUE READING BELOW
After a 13-year hiatus from show business, Gabby returned home to Manila last Sunday, March 30, and immediately mentioned his willingness to do a movie with Sharon if the opportunity presents itself.
Sharon acknowledged the clamor of the fans. But she's also certain that their supporters will always stand behind them no matter what.
"I'm sure our fans will always be there," she confidently told Ricky, ready to support whatever we do in showbiz, in our work, whether together or, for that matter, apart."
The Megastar is also very happy with the support her daughter with Gabby, KC Concepcion, is getting from the public. In describing KC, Sharon candidly said she, "...not only looks like but is truly more like him (Gabby) than me in many ways."
She also clarified that present husband, Senator Francis "Kiko" Pangilinan, is not prohibiting her from doing a movie with Gabby. The decision, according to Sharon, was solely hers out of respect for Kiko and their children.
ADVERTISEMENT - CONTINUE READING BELOW
"Could you imagine how my movie with Gabby, if ever, could turn their lives upside down!" exclaimed Sharon. "The last thing I want to happen is for people to turn our lives into a circus."
NOTHING BUT THE BEST. Though Sharon joked that a movie with Gabby would surely allow her to finally retire because of the guaranteed fat paycheck, she once again stressed that she won't compromise the trust and love she receives from her family for anything else.
When Gabby visited The Buzz last Sunday, March 30, he was asked by host Boy Abunda if he thinks or feels that Sharon is still harboring any ill-feelings towards him. Gabby doesn't want to assume but he humbly asked for forgiveness in front of the camera just to put any animosity, if there's still any, to rest.
Coming from Sharon herself, she confided to Ricky in closing, "When Gabby's name is brought up or I see his picture or an old video clip of him or for some reason he crossed my mind, there is no longer pain, but only good wishes for him, his lovely wife whom I appreciate for loving my daughter [KC] and being good to her, and their little angel. I pray that they be blessed enough to live the kind of life that Gabby and I could not...together. I cannot wish him less than true joy in his heart..."
ADVERTISEMENT - CONTINUE READING BELOW