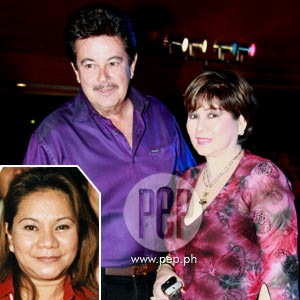 ---
The Supreme Court ordered entertainment columnist Cristy Fermin to pay the sum of P1million in damages and P6,000 in fines to couple Eddie Gutierrez and Annabelle Rama in connection with the libel conviction handed out initially by the Quezon City Regional Trial Court and the Court of Appeals.
The monetary penalty slapped on Fermin will serve as her bailout to avoid serving the jail sentence issued by the court, which sentenced her to a minimum of three months to a maximum of one year, eight months and twenty-one days.
Cristy, who was the publisher of the now-defunct showbiz magazine Gossip, repeatedly contested the judgments issued by the lower courts. She argued that she had no hand in the article published on June 14, 1995, which tackled a case filed against Annabelle in the United States. She also said that the article was not damaging to its subject.
The high court said the articles, written by a member of Cristy's reportorial team, fueled "speculations" that Rama, along with her husband, was hiding in the United States to evade the estafa charges filed by a certain Ligaya Santos.
ADVERTISEMENT - CONTINUE READING BELOW
The articles also said that the couple could not enter the United States since there were more estafa cases waiting for them there.
The high court junked Fermin's plea. It noted that by admitting she was the chairperson and president of Gossip, she was actually on top of operations and was aware of all the articles printed there.
The verdict stated in part: "Petitioner's criminal guilt should be affirmed, whether or not she had actual knowledge and participation, having furnished the means of carrying on the publication of the article purportedly prepared by the members of the Gossip reportorial team, who are employees under her control and supervision."
In a phone interview with GMA News, Fermin said she has accepted the court's decision and her relationship with the Gutierrez family is okay now. The Gutierrez family have yet to make a comment.