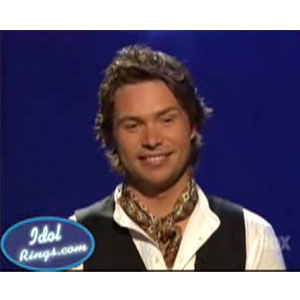 ---
A week after Ramiele Malubay's elimination, Aussie MichaelJohns was booted out from American Idol in a shocking results night. It wasMichael's first time to be in the bottom three. The other two finalists who gotthe lowest votes were Carly Smithson and Syesha Mercado.
Michael sang "Dream On" by Aerosmith during the performancenight, where the remaining eight finalists sang inspirational music inconjunction with Idol Gives Back, a charity show which aims to raise fundsfor children in Africa and the United States. The elimination night was moved a night later to give way to Idol Gives Back, which was taped a few days ahead.
Michael's performance got mixed reactions from the judges.Randy Jackson thought it was a pretty good choice for him. But he added, "It had pitchproblems and I still don't believe that's who you really are. It's alright forme."
Paula Abdul, on the other hand, disagreed with Randy. "Ithink it was a perfect song for you to pick. You sound as good as you look... Youare unbelievable and I though this fits you so perfectly."
ADVERTISEMENT - CONTINUE READING BELOW
Simon, for his part, said: "I thought it was a very goodperformance. Why I'm slightly on Randy on this though is I don't like you whenyou do impersonation of a rock star. I prefer with the more kind of blues,R&B thing in your voice... I thought it was a little bit wannebe-ish."
Michael's elimination, which brought boos from the audience duringthe live telecast, shocked not only the handsome singer fromPerth, Australia, but also his family and Paula, who were shown slack-jawed at the announcement.
"I'mdefinitely surprised," said Michael, who at 29 is the oldest American Idolcontestant this season.
WithMichael's elimination, only seven finalists remain in thecompetition. Aside from Carly and Syesha, those who sailed through the nextround were David Archuleta, David Cook, Jason Castro, Brooke White, and KristyLee Cook. The two Davids are now the only contestants who have not been inthe bottom three.
Nextweek, the seven finalists will sing songs by Mariah Carey, who will also betheir mentor.
ADVERTISEMENT - CONTINUE READING BELOW