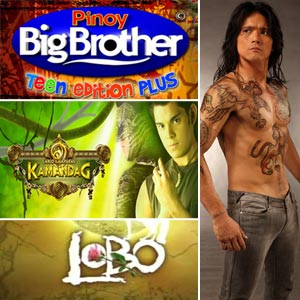 ---
There is very slight movement in the ratings game the pastfew days.
Eat Bulaga! and Daisy Siete are still topping the daytimerace while Joaquin Bordado and Kamandag are still lording it over in theprimetime race.
The longest-running noontime show, Eat Bulaga!, was the No.1 show Monday, Tuesday, and Thursday. However, Daisy Siete managed to slip into thelead Wednesday.
This is the exact scenario between Joaquin Bordado andKamandag. Robin Padilla's Joaquin Bordado took the top spot Monday to Wednesdaybut Richard Gutierrez's Kamandag grabbed that position Thursday.
Meanwhile, the two Sine Novelas of GMA-7, Maging Akin KaLamang and Kaputol ng Isang Awit, never fail to make it in the Top 5. ABS-CBN'snoontime show, Wowowee, is still the top Kapamilya show in the daytime race.
In the primetime race, the soap opera Babangon Ako'tDudurugin Kita and the primetime newscast 24 Oras are still in a tight racefor the third and fourth positions, although the reality show Pinoy Big BrotherTeen Edition Plus managed to slip into the fourth place Monday.
The Piolo Pascual-Angel Locsin starrer, Lobo, improved itsrating Tuesday to grab the fifth position from PBB Teen Edition Plus.
Other primetime shows that consistently make it in the Top10 are Kung Fu Kids, TV Patrol World, The Legend, and Palos.
It is also interesting to note that the gap in the audienceshare between GMA-7 and ABS-CBN narrowed considerably since Marimar endedits run last March 14. April 7 (GMA-7 -18 percent; ABS-CBN - 12.4 percent); April 8 (GMA-7 -17.5 percent; ABS-CBN -13.5 percent); April 9 (GMA-7 -16.8 percent; ABS-CBN -12.3 percent); and April 10 (GMA-7 - 16.5 percent; ABS-CBN - 13.2 percent).
ADVERTISEMENT - CONTINUE READING BELOW
Here are the comparative TV ratings between ABS-CBN andGMA-7 shows from April 7 to 10 according to the overnight ratings conducted byAGB Nielsen Philippines among Mega Manila households:
April 7 (Monday)
Non-Primetime(Partial):
SiS (GMA-7) 13.4%;Boy & Kris (ABS-CBN) 7%
Takeshi's Castle(GMA-7) 18.1%; Pilipinas, Game KNB?(ABS-CBN) 14.4%
Eat Bulaga!(GMA-7) 22.4%; Wowowee (ABS-CBN)16.6%
Daisy Siete(GMA-7) 21.5%; Maging Akin Ka Lamang(GMA-7) 19.1%; Prinsesa ng Banyera(ABS-CBN) 10.9%
Kaputol ng Isang Awit(GMA-7) 17.4%; El Cuerpo Deseo(ABS-CBN) 13.3%
Primetime:
Hana Kimi (GMA-7)12.9%; Wheel of Fortune (ABS-CBN)11.2%
24 Oras (GMA-7)23.1%; TV Patrol World (ABS-CBN)21.8%
Joaquin Bordado(GMA-7) 31.7%; Kung Fu Kids (ABS-CBN)21.4%
Kamandag (GMA-7)31.2%; Lobo (ABS-CBN) 22.6%; Pinoy Big Brother Teen Edition Plus (ABS-CBN)23.4%
Babangon Ako'tDudurugin Kita (GMA-7) 24.9%; Palos(ABS-CBN) 17.6%
The Legend (GMA-7)19%; Lovers (ABS-CBN) 11.6%
Kung Ako Ikaw(GMA-7) 14.4%; Bandila (ABS-CBN) 8.3%
April 8 (Tuesday)
Non-Primetime(Partial):
SiS (GMA-7) 11.1%;Boy & Kris (ABS-CBN) 8.3%
Takeshi's Castle(GMA-7) 15%; Pilipinas, Game KNB?(ABS-CBN) 15.8%
Eat Bulaga!(GMA-7) 21.9%; Wowowee (ABS-CBN)16.4%
Daisy Siete(GMA-7) 22.8%; Maging Akin Ka Lamang(GMA-7) 19.9%; Prinsesa ng Banyera(ABS-CBN) 10.5%
Kaputol ng Isang Awit(GMA-7) 16.9%; El Cuerpo Deseo(ABS-CBN) 13.2%
Primetime:
Hana Kimi (GMA-7)13.7%; Wheel of Fortune (ABS-CBN)12.2%
24 Oras (GMA-7)26.9%; TV Patrol World (ABS-CBN)20.7%
Joaquin Bordado(GMA-7) 34.1%; Kung Fu Kids (ABS-CBN)22.6%
Kamandag (GMA-7)31.9%; Lobo (ABS-CBN) 25%; Pinoy BigBrother Teen Edition Plus (ABS-CBN) 24.7%
Babangon Ako'tDudurugin Kita (GMA-7) 26%; Palos(ABS-CBN) 19.2%
The Legend (GMA-7)19.9%; Lovers (ABS-CBN) 15%
Kung Ako Ikaw(GMA-7) 12.7%; Bandila (ABS-CBN) 8.7%
April 9 (Wednesday)
Non-Primetime(Partial):
SiS (GMA-7) 11.1%;Boy & Kris (ABS-CBN) 6.2%
Takeshi's Castle(GMA-7) 14.8%; Pilipinas, Game KNB?(ABS-CBN) 14.2%
Eat Bulaga!(GMA-7) 20.5%; Wowowee (ABS-CBN) 15%
Daisy Siete(GMA-7) 18.3%; Maging Akin Ka Lamang(GMA-7) 17.5%; Prinsesa ng Banyera (ABS-CBN)9.5%
Kaputol ng Isang Awit(GMA-7) 15.5%; El Cuerpo Deseo(ABS-CBN) 12%
Primetime:
ADVERTISEMENT - CONTINUE READING BELOW
Hana Kimi (GMA-7)14.1%; Wheel of Fortune (ABS-CBN)11.7%
24 Oras (GMA-7)25.5%; TV Patrol World (ABS-CBN) 20%
Joaquin Bordado(GMA-7) 31.7%; Kung Fu Kids (ABS-CBN)20.1%
Kamandag (GMA-7)31.5%; Lobo (ABS-CBN) 21.5%; Pinoy Big Brother Teen Edition Plus(ABS-CBN) 22.6%
Babangon Ako'tDudurugin Kita (GMA-7) 27.2%; Palos(ABS-CBN) 18.6%
The Legend (GMA-7)18.1%; Lovers (ABS-CBN) 15.7%
Kung Ako Ikaw (GMA-7)12.8%; Bandila (ABS-CBN) 8.5%
April 10 (Thursday)
Non-Primetime(Partial):
SiS (GMA-7) 10.8%;Boy & Kris (ABS-CBN) 8.3%
Takeshi's Castle(GMA-7) 15.9%; Pilipinas, Game KNB?(ABS-CBN) 14.2%
Eat Bulaga!(GMA-7) 19.6%; Wowowee (ABS-CBN)15.7%
Daisy Siete(GMA-7) 16.8%; Maging Akin Ka Lamang(GMA-7) 16.9%; Prinsesa ng Banyera(ABS-CBN) 10.8%
Kaputol ng Isang Awit(GMA-7) 17.2%; El Cuerpo Deseo(ABS-CBN) 12.7%
Primetime:
Hana Kimi (GMA-7)13.7%; Wheel of Fortune (ABS-CBN)11.4%
24 Oras (GMA-7)26.9%; TV Patrol World (ABS-CBN)19.5%
Joaquin Bordado(GMA-7) 31.9%; Kung Fu Kids (ABS-CBN)21.9%
Kamandag (GMA-7)32%; Lobo (ABS-CBN) 22.4%; Pinoy Big Brother Teen Edition Plus(ABS-CBN) 24.7%
Babangon Ako'tDudurugin Kita (GMA-7) 27%; Palos(ABS-CBN) 19.1%
The Legend (GMA-7)17.8%; Lovers (ABS-CBN) 16.9%
Kung Ako Ikaw(GMA-7) 13.7%; Bandila (ABS-CBN) 9.7%
Click here
for the ranking of the Top 10 non-primetimeand primetime programs from April 7 to 10 among Mega Manila households: