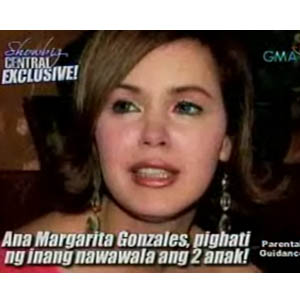 ---
Former actress Ana Margarita Gonzales in facing one of themost difficult times of motherhood: losing her children. Her two children were allegedlyabducted by their Spanish father last January 31, 2008. (Click here to read the previous article.)
After filing an abduction with conspiracy case against Ana'shusband last February, another complaint was issued by Ana and her mother Charitolast Sunday. This time, for domestic violence.
Now, Ana Margarita is ready to share her feelings to ShowbizCentral. And probably with the help of TV, be able to get her kids back.
"I'm very fine here in my parent's house," Ana said. "I'mnot sick. I just feel sad because I lost my kids. I really want them backbecause they belong to the mother."
A newspaper article recently published a story allegedlystating that Ana Margarita is suffering from psychological imbalance andbipolar disorder. The information was allegedly taken from Ana's close friendsand from her husband.
"I'm not sick," a teary-eyed Ana told Showbiz Central, her voice almost cracking. "You can attest to all my friends. I've neverbeen psychologically ill. I've been here [in the country] for five months andeveryone can attest that there's nothing wrong with me at all. They're alllies.
ADVERTISEMENT - CONTINUE READING BELOW
"You know with kids, I don't believe in spanking. How darehe [her husband] because I'd never do that to my babies. They're my life, thosekids are so beautiful and I'd never, never hurt them. He claimed that I wouldtalk to myself, it's all lies in ManilaStandard. That's why I want to sue them for libel because that's not fair."
Showbiz Central tried to get in touch with Manila Standard for their side of thestory, but thought it wise to wait for whatever case Ana will file against thembefore releasing any statement.
Ana also shared what she experienced with her husband forthe past four years, and why she was a regular patient at the hospital duringthose times. But regardless of that and whatever sickness people say about her,she just feels hurt by the thought of not having her children with her.
"The only thing I have is insomnia," Ana said between sobs."I can't sleep because I want to be with my kids again. Now, I'm glad mydepression has lifted, but talking about my kids makes me cry because I lovethem very much. I'm willing to fight and do whatever it takes to get my kidsback. I do not trust him [her husband] with the kids because if he can hurt me,he can hurt anyone. He can hurt my babies and I don't want that."
ADVERTISEMENT - CONTINUE READING BELOW
Ana's family remains supportive of her, especially her mom,dad Jose Mari, and sister Cristina.
Former actress Cristina commented, "Being also a mothermyself... Siyempre it never happened to me, but I can imagine how it feels, di ba?Kasi your kids are taken away from you by force. The truth will always comeout, in time. Maganda na yung ganito na nalaman namin yung katotohanan tungkolsa husband niya. "
Former actor and politician Jose Mari has expressed hissupport by saying, "I'm happy that Ana now has gotten over it. Suwerte naman nanaagapan namin at hindi siya namatay."
Jose Mari cryptically ended his statement with this message,"May araw din sila."
Ana can only plead with friends who bore witness to the formercouple's eight years of staying together to come out and speak up. "I want toappeal to all who worked with me before to come out already."
When asked what her message was to her husband, Ana, withher voice still quivering, immediately answered, "I have nothing to say to sayto him because I'm so disgusted to what he has done to me."
ADVERTISEMENT - CONTINUE READING BELOW
Showbiz Central has also tried to get a statementfrom Ana's husband, but his camp has expressed that they will just contact the show when the time comes.