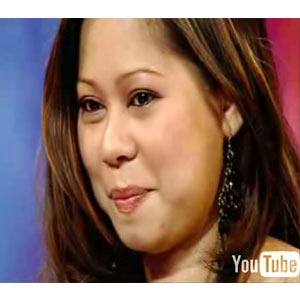 ---
Since its inception in 2005, YouTube has rapidly become one of the most popular online hubs for those who wish to shine and make a name for themselves. A self-upload video sharing site, it has made celebrities out of several hopefuls such as fumbling singer turned actress Alyssa Alano, singing sensation Charice Pempengco, and English-impaired beauty queen Janina San Miguel.
Now, after Charice Pempengco, another Filipina sings her way into the hearts of online audiences.
Madonna Decena, 32, a club singer based in the U.K., first endeared judges and audiences when she auditioned for Britain's Got Talent, a talent search created by American Idol judge Simon Cowell, who acts as judge in the show alongside journalist Piers Morgan and actress Amanda Holdren.
With her superb rendition of Whitney Houston's "I Will Always Love You," Madonna wowed all three judges, and even moved judge Amanda to tears when the struggling single parent and mother of two shared her story of being her family's sole breadwinner.
ADVERTISEMENT - CONTINUE READING BELOW
Madonna's video was recently uploaded on YouTube where the Pinay singer became an instant celebrity. YouTube registered more than 200,000 viewing hits on this video.
RISE TO FAME. During the live auditions at Manchester Theater in the UK for Britain's Got Talent, Madonna was able to receive the much coveted approval from the brutally frank Cowell, who said that he didn't expect such a performance from the Pinay hopeful. But as he later explained, "if you've got talent, you've got talent [and] I absolutely loved it." Madonna has made it to the semi-finals of the auditions.
Madonna, a communication arts graduate from Miriam College in Quezon City, moved to the U.K. seeking "a better paying job and hopefully to find more opportunities for her singing career," said her brother Marlon in a GMANews.tv interview.
The Filipino singer has been performing in several events and clubs, where she caught the eye of Steve and Judi Jones, the owners of a small talent management company.
ADVERTISEMENT - CONTINUE READING BELOW
Steve Jones Management regards Madonna as "this very attractive and versatile female vocalist [whose] vocal ability... is exceptional and [whose] professional stage presence is beyond reproach."
Marlon shared in the same interview that the whole family is "praying that she makes it to the finals...win or lose." The contest would have a winner sometime in May, he said.
Britain's Got Talent has started filming and will soon air locally.