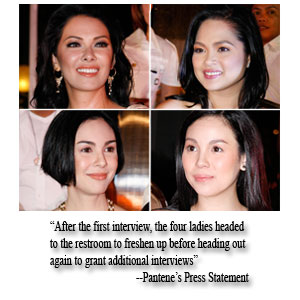 ---
Following the reported walk out of showbiz press duringthe press launch of Pantene's newest endorsers, the shampoo brand's PR agency,CaPRI, released a press statement explaining what happened last night, April 28.
Ruffa Gutierrez, Gretchen Barretto, Judy Ann Santos, andClaudine Barretto graced the press launch that was held at the poolside ofHotel Intercontinental Manila, Makati City. These four beautiful ladies were presented to the invited media and guests for a general Q&Asegment. (Click here to read fullarticle). But given that the endorsers are all controversial, some reporters had hoped for a one-on-one interview.
The interviews did not happen.
Members of theentertainment press decided to leave the event after waiting too long for the shampoo's celebrity endorsers to emerge from the restroom.
To explain the incident, the shampoo brand—through RichardArboleda, managing director of CaPRI—gave an official press statement to PEP(Philippine Entertainment Portal). Itreads:
"This statement is being issued to clarify the circumstancesthat kept some media people from staying until the end of the Pantene MostBeautiful Press Conference.
ADVERTISEMENT - CONTINUE READING BELOW
"After the official press conference, our fourendorsers—Ms. Gretchen Barretto, Ms. Claudine Barretto,Ms. Ruffa Gutierrez, and Ms. Judy Ann Santos—were slated to do additionalinterviews with the media, apart from the official Q&A that was done aspart of the program. After the first interview, the four ladies headed tothe restroom to freshen up before heading out again to grant additional interviews.
"Unfortunately because of the huge number of media guests, it became difficultto communicate to everyone that the interviews will continue. In fact,the four women stepped back out and resumed granting interviews just as somemedia were leaving. For the TV and print media who were left behind, the fourendorsers continued to do interviews for the next hour.
"We would like to thank our friends from the media for their continued support,and we would like to apologize for any inconvenience the circumstances may havecaused. We will do our best to make sure that incidents like this will neverhappen again."
ADVERTISEMENT - CONTINUE READING BELOW
Click here to know more about Pantene's Most Beautiful campaign.