Let me start this piece by telling everyone that, yes, I believe it's downright snobbish—not to mention a clear display of limited vocabulary—to dismiss other people's work as "trash."

That's your review? That's a critique?

How high and mighty can you get? So, you are the repository of everything precious? Wait, have you even earned your role as judge and jury? If so, why is your language so common it could've come straight off the streets?
THE BACKGROUND: "TRASH"
Socialite Tessa Prieto is facing criticism today for her harsh critique of ØV CÜNT, a contestant from Drag Race Philippines Season 2.
ØV CÜNT—known for embracing an edgy and spooky drag aesthetic—competed against fellow aspiring Drag Race Philippines' star Matilduh in the show's third episode, a design challenge centering around a Halloween theme.
While deliberating with the contestants, Tessa glibly voiced her dislike for ØV's design, sparking controversy and eventually drawing attention less to the design and more to herself.
Her remarks on ØV's design output: "Can I say it? This is trash... But only because it's Halloween. Pero parang kulang ng spooky. Also, when I spoke to you, you had other ideas. From that time that I saw you, I'm seeing the same thing."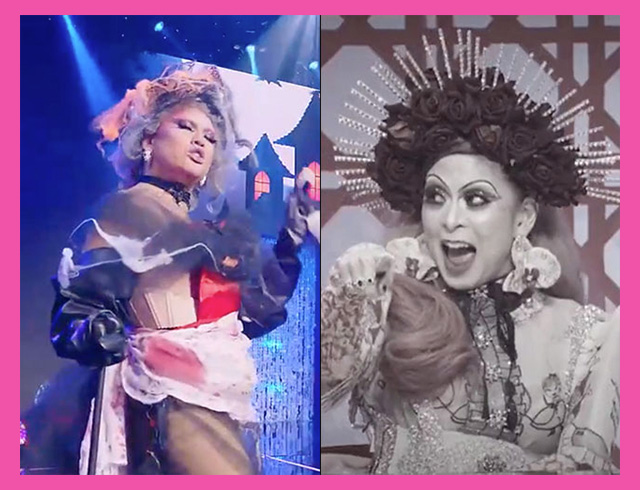 Tessa's "trash" talk isn't even original. This isn't the first time a drag queen's work in the reality competition has been put down as "trash."
In Season 1's 7th episode, finalist Eva Le Queen had to stand there and take the same words during her own design challenge, this time from fashion designer Rajo Laurel.
In his remarks, Rajo described Eva's DIY bodysuit as "crafty," before saying it was actually "ugly" and an "atrocity," until he finally labeled it "trash."
Rajo told Eva: "Because we are in this level of competition, it's a little bit crafty. And it's sort of, like, going into that mortal sin of the DIY part of the competition, 'cause it is something that you glued on to a body suit. And that, for me, is a mortal sin.
"What saved you perhaps is your presentation in your luxury department. 'Cause it was funny, the cheque, the story... It made me laugh, it made me forget this atrocity that is before me."
Before the design challenge, Eva and other contestants had participated in a runway competition with a luxury theme.
Continuing his critique, Rajo added: "Because that, if you look around you, that's ugly. And I'm being fierce because I know you can do better. And I'm being hard because I have seen what you can do. And this is trash."
Tessa's own "trash" comment left me particularly upset, given that Eva Le Queen revealed that the socialite was present during her reconciliatory dinner with Rajo.
Tessa already knew the history between them and the negative response Rajo had received for that comment.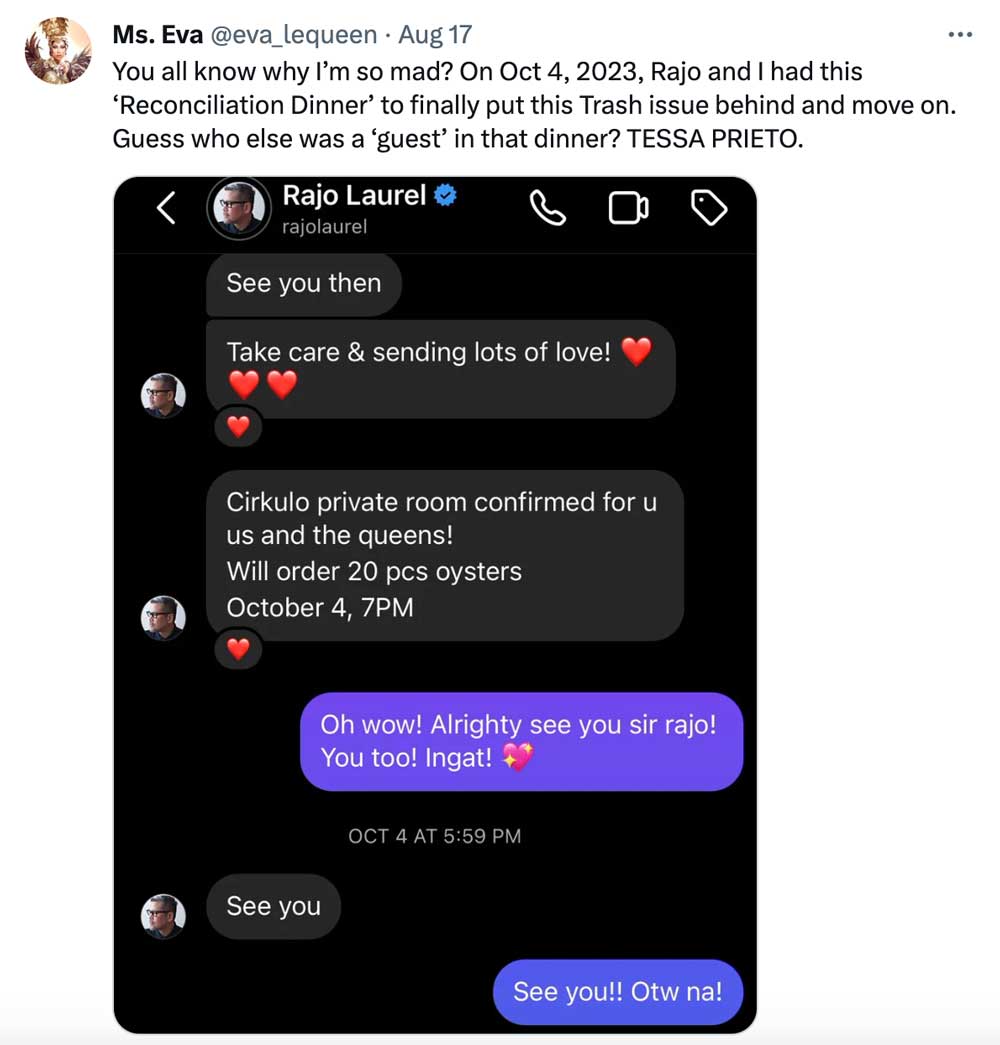 IT'S RUDE AND It'S NOT HELPING
To repeat my first point: Dissing someone's earnest work—or, worse, someone—as "trash" following a creation that the person invested great effort in is a sign that the persons talking "trash" are closet snobs and so wanting in vocabulary, they end up sounding really rude.
First, the rudeness doesn't help because it doesn't explain how someone can get better.

Feedback that gives the whys and hows and feedback prodding a person to do better are what create the environment for learning.
Even if Tessa says it's for TV soundbites and shifts the blame to TV editing, the comment was hers.

Also, was her need to stay on the show so great she had to play by those rules?

Whether it's an industry expert on a judging panel or a critic in a position of authority, the expectation is for judges to, ultimately, provide support and not to leave contestants feeling low and lost.
I must commend Rajo for having adjusted his style since. He is now more considerate when delivering his reviews and actually now provides concrete suggestions for design improvement.
Second, sweeping comments that are unkind and thoughtless discourage people from giving the work another try.
People forget that using harsh language can so demoralize others, it deters them from pursuing their creative life. So, it stops them from finding out just what stuff they're made of and exactly what brilliance may lie beneath.
THINK BEFORE YOU SPEAK
Seeing Eva Le Queen and ØV break down because of the "trash" remark jogged my memory.

I've been through this. A careless, harsh comment thrown my way made me question my worth, leading to a lot of anxiety on my end while the person who left the careless, harsh comment just went cluelessly away.

It's an experience I wouldn't wish others to go through.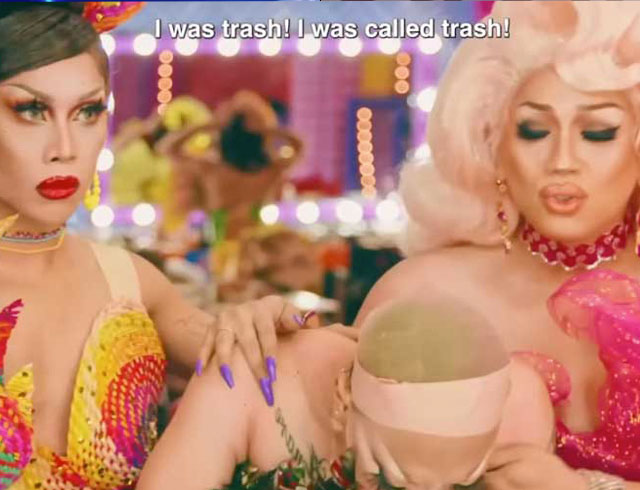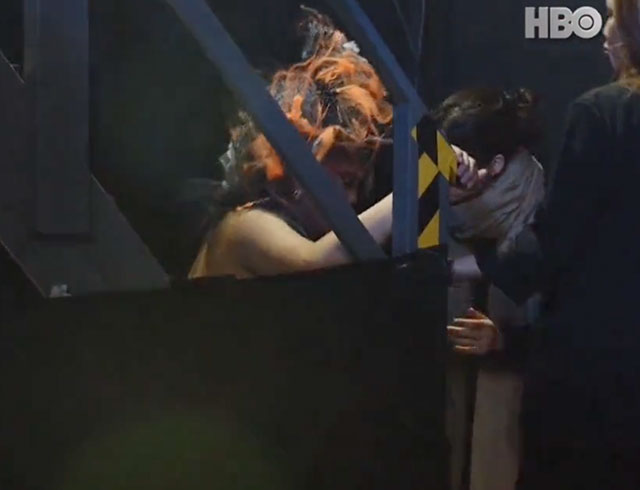 It also made me remember a lesson from my parents: "If you don't have anything nice to say, it's better to stay quiet than to hurt others."
Words hold immense power—they can harm someone's mind permanently and dismantle his person.
JUDGES SHOULD BE BETTER PEOPLE

This admonition applies even to judges of contests.

Certainly, they are expected to give a solid, frank assessment of the work before them. Judging is, after all, not a job for those who want to be popular. Judges are expected to tell it as it is. This way, a transference of skill and knowledge between judge and contestant happens.

All the same, a big presumption here is that judges are the more learned, that they've seen more, done more, and that they've been chosen because they have the expansiveness and the smarts to be able to mentor.

They are also, not incidentally, expected to have the articulation.

Surely, "trash" as a word is too pedestrian, too facile, for use in a critique. Only extraordinary—read: revolting—circumstances would merit its use.

Drag Race Philippines does not seem to fall under extraordinary or revolting. It's a reality show, it's entertainment, it's discovery. It's a show that brings learning to exaggerated levels of fun, turning the whole journey into an exciting game.

Unless, of course, the show's judges don't have the vocabulary for what they need to say.

If the judges cannot articulate the dynamics of design violated by the contestants, if they cannot explain the desired match between theme and creation, if they cannot find the language to express what individual creativity demands—then, yeah, I suppose they can descend to using the easy "trash."
READ MORE: