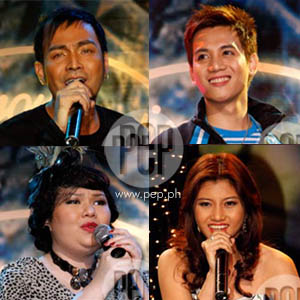 ---
Four more dreams ended earlier tonight, June 1, when PinoyIdol made another round of elimination. The four contestants who got the lowestnumber of votes this week are Vren Villaflor and Regene Ong, and guys Sherwin Marquez and Rye Estrada.
Mae Flores and Meryl David joined Vren and Regene in thebottom group. Robby Navarro and Ram Chaves were also in the bottom group alongwith Sherwin and Rye.
Among those who got eliminated tonight, the most shockingwas Rye's exit since he was always considered as one of the strongest malecontestants. While Ogie and Jolina think that Rye does not deserve to be eliminated this early, Wyngard said that he had expected all four who got eliminated to exit as early as last week.
Unlike last week, there were no tears tonight as Vren, Regene, Sherwin, and Rye apparently accepted their fate wholeheartedly.
The Top 20 remaining contestants—10 boys and 10 girls—sangsongs from the year they were born during this week's performance night. Thegirls took center stage last Friday, May 30, and the boys performed lastnight, May 31.
Vren sang Bette Midler's "Wind Beneath My Wings," Regeneperformed U2's "With Or Without You," Sherwin belted out Barry Manilow's "TheOld Songs," and Rye gave his rendition of the Styx's "Babe."
The contestants got mixed reviews from judges Ogie Alcasid,Jolina Magdangal, and Wyngard Tracy. But according to Jolina, the guys faredbetter than the gals.
With the elimination of Vren, Regene, Sherwin, and Rye,only 16 contestants remain standing. When they are trimmed down to 12, theremaining six male and six female contestants will face each other for thefirst time to find out who among them will be the first Pinoy Idol.
ADVERTISEMENT - CONTINUE READING BELOW
Aside from Ram and Robby, the remaining malecontestants are Walton Zerrudo, Kid Camaya, Daryl Celis, Warren Antig, TofferRei, and JJ Jr.
Aside from Meryl and Vren, the remaining female contestantsare Jayanne Bautista, Sue Ellen, Carol Leus, Penelope, Jeni Rawolle, and GretchenEspina.
These contestants will perform again next week, June 6 and7, before the next elimination on Sunday, June 8.