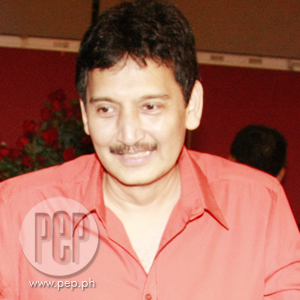 ---
Rudy Fernandez was always the brave and tough hero in hismovies. This morning at 6:15 a.m., June 7, as brave as he was in his movies andin life, Rudy had to surrender to his fate, ending his two-year fight againstcancer. He died at the age of 56, surrounded by his loving wife, sons, andclosest friends.
Months before his wife Lorna Tolentino admitted thatDaboy—as he was fondly called by his friends and fans—had cancer, a blind itemwent around about an action star who was discovered to be sick with cancer.There was another blind item about a veteran action star who cried buckets to awriter turned director when he learned that his friend (another action starlike him) was really sick with cancer and not just with a malignant cyst, as earlierclaimed by his friend's camp.
The ailing star turned out to be Rudy Fernandez.
Sadness gripped the whole showbiz industry when Lornaannounced that her husband had cancer and was in stage 4 of periampullarycancer—an enlargement of the ducts from the liver and pancreas where they enterthe small intestines. The industry had every reason to be deeply concerned;just a few years ago, it lost one of its most respected and beloved icons, thegreat Fernando Poe Jr.
Daboy felt the love and care of his family and friends whileundergoing treatment. His battle with cancer brought them even closer together.Sen. Bong Revilla described Daboy as the "peacemaker" in their barkada composedof Bong, Daboy, Sen. Jinggoy Estrada, and Phillip Salvador. Daboy's friendsmade sure they were always around whenever he needed them and they gaveeverything they had for their ailing kumpadre.
ADVERTISEMENT - CONTINUE READING BELOW
Until the moment Daboy breathed his last, they were there.It may have been very hard for them to see their dear friend suffering, butDaboy left with a smile in his lips, knowing how well-loved he always was and that, as they had assured him,his friends will take good care of his loved ones.
Here's a chronological list of how Daboy and LT went throughthe whole ordeal of Daboy's cancer.
Early 2006: Two years ago, Rudy had a recurring feverthat attacked him every afternoon. The diagnosis was cancer. The Fernandezfamily managed to keep it under wraps from the press, but close friends knewabout it.
March 2006: His ailment was diagnosed as stage 1.Keeping it from the media, Daboy immediately underwent Whipple operation, aprocedure named after American surgeon Allen O. Whipple, who devised it in the1930s. The highly delicate major procedure (10 hours) involves removing partsof the pancreas, bile duct, gall bladder and duodenum, then suturing theremaining bile duct-intestine connection. Rudy and LT were told that manypatients had gone on to live many years after the operation. And, indeed, theactor bounced back.
Answering talks about Rudy having cancer, LT said there wasnothing to worry about. She said it was only a cyst that needed to be takenout. Rudy even gave an interview after his operation. "Maganda yungrecuperation ko. I even did two teleseryes for GMA-7: Atlantika and Now and Forever,"he said.
March 2007: LT admitted in the GMA-7 showbiz talkshow Startalk that Rudy indeed had cancer. The cancer came back. Rudyexplained, "Any recurrence, stage 4 agad, automatically. They found two lumpsin my liver, and another near the pancreas." An oncologist said he had sixmonths to live.
ADVERTISEMENT - CONTINUE READING BELOW
Rudy Fernandez and Lorna Tolentino scheduled a trip to HongKong, Japan, and the United States to seek other medical opinions and undergotreatment. After affecting his pancreas, the agressive cancer cells invaded hisliver. His doctors informed him that he needed to go through a series oflaboratory tests and immediately start chemotherapy.
March 11, 2007: A day after LT's announcement, hisclose friends organized a surprise party. The ever-positive Rudy Fernandez lefta promise only strong men declare: "I ain't gonna die yet!"
May 2007: Rudy and LT wentto Tokyo for a cancer treatment called Radio Frequency Abulation, whichis done to treat "inoperable tumors" in the liver through energy emanating fromradio frequencies.
September 2007: The couple flew to Hong Kong, thistime for his PET (Positron Emission Tomography) Scan test.
Rudy went under the knife to have a portacatheter inserted."Para siyang may pacemaker para hindi masyadong masakit sa mga veins niya yungchemo na ginagawa sa kanya," Lorna said.
March 2008: They went to the States to try a new kind of treatment.Prior to their trip, he already had treatment here with "nine infusions."
April 2008: Sen. Jinggoy Estrada in an interviewsaid, "Yung kay Rudy, unfortunately, sa liver niya kumalat." Rudy was supposedto have his revolutionary gene therapy, but they only stayed for four days. Hehad an obstruction in his billary duct.
"He's in pain," Sen. Bong Revilla said.
May 2008: The action star had stage 4 periampullarycancer. But he was still positive. "Life is not a battle. I love it, I wantmore of it. That's all I ask, just a little more."
ADVERTISEMENT - CONTINUE READING BELOW
Senator Jinggoy disclosed that Rudy's tummy was alreadybloated and his eyes and skin were yellowish, all symptoms of the deadlycancer.
His friends offered a healing mass on May 10.
June 5, 2008: Lorna texted her close friends: "I amentrusting his life to the Lord."
June 7, 2008: Rudy "Daboy" Fernandez, 56, succumbedto cancer.