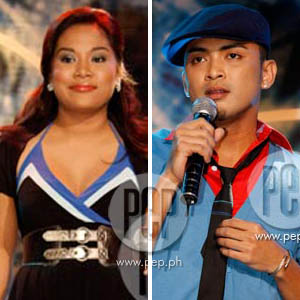 ---
Two more Pinoy Idol contestants were eliminated in the thirdweek of the "workshop stage." Just two weeks away before the start of the finals,Walton Zerrudo and Meryl David ended their journey as they got the lowestnumber of text votes this week.
Walton was joined in the bottom group by Toffer Rei and KidCamaya while Meryl joined Mae Flores and Jeni Rawolle in the bottom three.
The elimination of Walton was a big surprise since PinoyIdol judges Ogie Alcasid, Jolina Magdangal, and Wyngard Tracy praised hisrendition of Lionel Richie's "Hello" last Friday, June 6. Meryl also got favorable reviews from thejudges for her rendition of Roberta Flack's "Killing Me Softly."
Ogie and Jolina expressed their disappointment with tonight's results.
This weekend, the Top 16 semi-finalists sang songs fromtheir musical influences.
Only seven boys and seven girls are now movingon to the next round. Aside from Toffer and Rei, the other boys who willperform again next week are Daryl Celis, JJ Jr., Ram Chaves, Robby Navarro, andWarren Antig. Also joining Mae and Jeni next week are Carol Leus, GretchenEspina, Jayann Bautista, Penelope, and Sue Ellen.